TNN | Updated: Oct 22, 2019, 2: 51 IST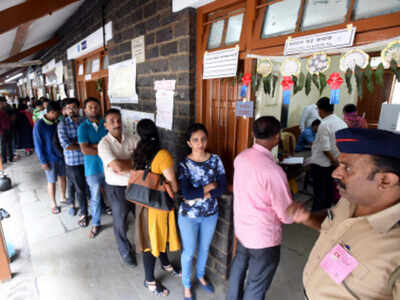 Highlights
Haryana recorded 65. 57% voting on Monday, significantly down from its highest-ever turnout of 76. 13% in the 2014 state polls
Maharashtra registered a turnout of 60 .5% as compared to 63. 08% in the last assembly elections
The voting fi gures in both the states are also lower than those recorded in this year Lok Sabha polls
Voters in long queue for casting their vote at Chinchwad polling center on October 21
NEW DELHI:Haryanarecorded 65. 57% voting on Monday – significantly down from its highest-ever turnout of 76. 13% in the 2014 state polls.Maharashtraalso registered a reduced turnout – 60 .5%, as compared to 63. 08% in the last assemblyelections.
The voting figures in both the states are also lower than those recorded in this yearLok Sabhapolls : 70. % and 61. 02% in Haryana and Maharashtra, respectively.
Polling was also held for by-elections to 51 Assembly and two Lok Sabha constituencies spread across 17 states on Monday. Barring a few sporadic incidents, voting was "peaceful and smooth", deputy Election Commissioner Umesh Sinha said. Counting begins at 8am on Thursday.
more from times of india news