These devices allow you to connect, control and monitor Live with a range of innovative technologies and communication protocols. Use LEGO® MINDSTORMS® EV3, Arduino, or littleBits ™ to connect up sensors, lights or motors, open your sound world up to the web through JSON-based APIs, or convert OSC data to MIDI data. The list of input and output possibilities for music & sound creation with Live is almost endless.
The Pack consists of 11 Max for Live devices: a toolkit for exploration, or to open up in Max and adapt to your own needs (Max programmingknowledge is required for this!). Some devices demonstrate how you can use each protocol to capture different types of data.
You can get the pack using the download button to the right or by forking our repository on
.
Here's more on how you can use each device.
Hardware
LEGO® MINDSTORMS® EV3 – Connect an EV3 Programmable Brick to Live and get access to its sensors and motors.
Arduino – Connects switches, potentiometers and other sensors to control Live parameters, or use Live to control LEDs or Servos connected to an Arduino Uno.
littleBits ™ – use the littleBits Arduino with other input / sensor Bits to control Live. It also enables events in Live to control your other littleBits modules. Find out more about littleBits atlittleBits.cc
Camera – fetches webcam data in order to control mappable parameters.
OSC devices
OSC Send – converts any mappable Live parameter to OSC data for sending out of Live.
OSC TouchOSC – allows you to map any controller from any available TouchOSC layout to live elements.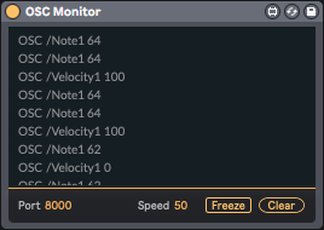 ()
OSC Monitor – a simple but useful OSC data monitor.
OSC Leap Motion – uses Leap Motion to generate midi notes with the help of the ManosOsc application.
OSC MIDI Send – sends MIDI note and velocity data as OSC messages to a Processing sketch.
JSON devices
JSON Weather – one of two examples on how to fetch JSON data from the internet, parse it through dictionaries and query specific data content from it.
This example device is powered by theDark Sky API
JSON Video – the second example device on how to fetch web data in JSON format: uses #ableton tagged looped videos from the online video sharing service "Vine".