Michael Jackson's Accusers
Robson, Safechuck Feel 'Closer' to New Trials …
After Appeals Court Hearing
11 / 18 / 2019 2: 28 PT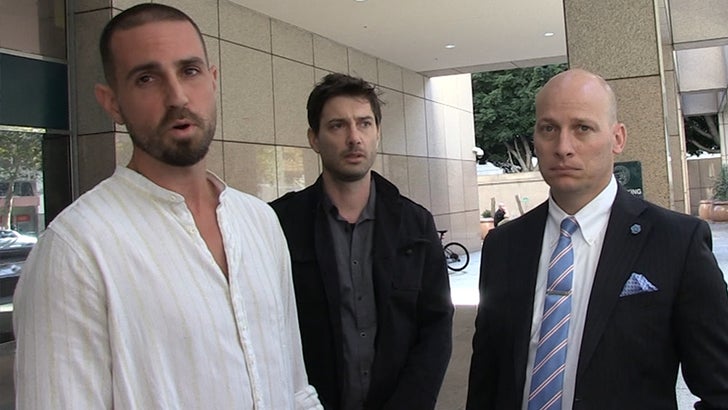 Exclusive
TMZ.com
2: (PM PT) – The Appellate Court hearing just ended and attorneys for Robson, Safechuck and the Michael Jackson estate all agreed the new law could open the door to new trials for both men. The judges have not made a final ruling yet, but the handwriting's on the wall. We spoke to Wade and James on their way out of the hearing.
Jackson estate attorneyHoward Weitzmansays they understand "the Court of Appeal agrees that these cases must be returned to the trial court to be analyzed under the new law signed by Governor Newsom. " However, he adds … "The Appellate Court's tentative ruling is not on the merits of Robson and Safechuck's allegations and the Court in no way said that these cases will go to trial."
Weitzman says the estate remains confident the claims "will, once again, be dismissed as has happened before."
1: 00 PM PT– We just got Wade and James on their way into court, both were happy to have another chance and hopeful for the future of their case.
(The 2 men who suedMichael Jackson's estate and were the subject of the gut-wrenching "Leaving Neverland" documentary … are set to get their day in court to press their sexual abuse claims against the singer's estate.
As you may know …Wade RobsonandJames Safechucksued MJ for sexual abuse, but their lawsuits were dismissed in 2017 – partly due to the statute of limitations. Both men appealed their rulings and the cases have been stuck in appellate court … until now.
We've learned the California Court of Appeal just issued a tentative ruling which would overturn the dismissals, on grounds a new California law extended the statute of limitations for child sexual abuse cases. That means Robson and Safechuck can havetheir cases heardbefore a jury.
It's not a done deal. As we said, the ruling is tentative. Oral arguments are set for this week, and the justices could change their minds, but typically the tentative ruling stands.
Now the MJ Estate has a number of other objections to claims, which will be addressed by the trial judge.
We reached out to reps from the MJ Estate and reps for the alleged victims. They all had no comment.
Originally Published – 1: (AM PT)