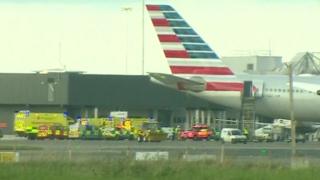 A London flight to Philadelphia has been diverted to Dublin after reports of a
American Airlines said two crew members and one passenger went to hospital "for evaluation" after flight AA 729 from Heathrow landed at 13: 15 GMT on Monday.
Airbus A 330 – 300 landed due to an odor "caused by a spilled cleaning solution in the galley", it added.
One passenger wrote on Twitter that the spillage "led to [a] sickness outbreak and an emergency landing".
Another passenger reported noticing "noxious smells" on board the flight.
An audio clip has appeared online, purporting to be a recording of a conversation between the pilot and an air traffic controller.
In it, the pilot is heard to say that two cabin staff had "actually lost consciousness" after being exposed to the cleaning product.
"I'm told it is not a toxic substance," he added.
The Irish Aviation Authority said it does not release such conversations and was therefore "not in a position to authenticate it".
A spokeswoman for Dublin Airport said that the flight had been diverted "for a medical emergency".
"As per standard operating procedures there was a full turn-out of Dublin Airport's emergency fire services," she added.
A second American Airlines flight was met by emergency vehicles after it also was diverted to Dublin on Monday.
The airline said flight, from Paris to Charlotte in North Carolina was diverted after a passenger fell ill.
The passenger was taken from the plane for treatment and the flight is scheduled to depart later on Monday, a spokeswoman added.
---
Were you onboard the flight? Or do you know someone who was? Get in touch by emailing[email protected].
Please include a contact number if you are willing to speak to a BBC journalist. You can also contact us in the following ways: