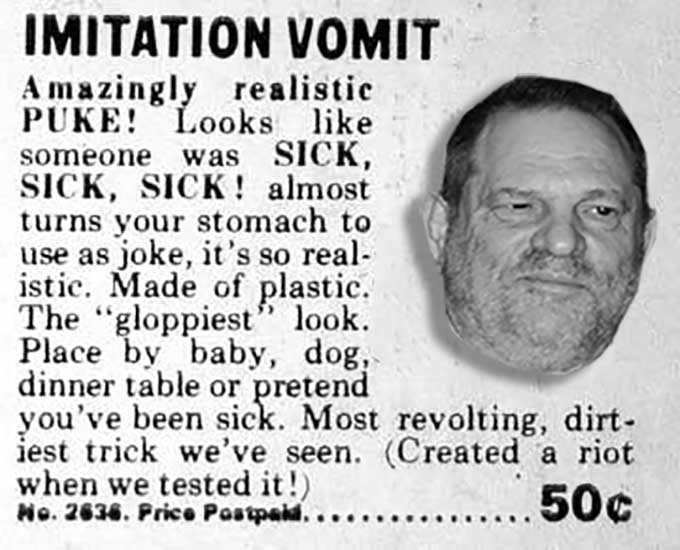 Earlier this week alleged serial rapist Harvey Weinstein attended a event called Actors Hour at Downtime Bar in New York city. Weinstein and his entourage were seated at a prime table, which was allegedly reserved for him by Actors Hour producer Alexandra Laliberte. When several women complained about Weinstein being there, they were scolded and removed from the bar.
One woman in attendance, Amber Rollo,posted a thread about it on Twitter. She said she approached Weinstein's table and "called him a fucking monster and told him he should disappear. His friend / body guard / goon / family member called me a cunt and I really really wanted to lunge over the table and strangle him."
Kelly Bachman, one of the performers at the event, talked in stage about being in the same room as "Freddy Krueger" and remarked "I didn't know we had to bring our own mace and rape whistles to Actors Hour. " One or two men loudly booed and told her to "shut up."
Another woman, actor Zoe Stuckless, approached Weinstein's table and expressed outrage that he was at the bar:
Hey all, I know I'm late to the conversation here. I don't usually use twitter but it seems like that's where a lot of this conversation is happening. Last night I confronted Harvey Weinstein in a bar along with a number of other artists. Heres the thread (1 /?)# HarveyWeinsteinpic.twitter.com/L8Oee5hAO7

– Zoe Stuckless (@revoltchild)October 25, 2019
She was escorted out of the bar.
And if you can stomach it, here's a photo of Weinstein flanked by two members of his entourage:
The alleged rapist's spokesperson (how would you like to have that job?) Issued the following statement:
Harvey Weinstein was out with friends enjoying the music and trying to find some solace in his life that has been turned upside down . This scene was uncalled for, downright rude, and an example of how due process today is being squashed by the public, trying to take it away in the courtroom too.
Downtime Bar issued a statement on Facebook (which has been deleted):
A company called Actors Hour rented our bar for a private event, with a guest list all their own. Shortly into the evening, one guest began heckling another, causing a disturbance to everyone in attendance. After several requests to stop were ignored, we kindly asked the heckler to leave, "the venue explained in its post.

Please know that our goal at Downtime is to create an environment where everyone feels welcome. We respect the privacy of our patrons and event partners, and want to ensure that all guests are treated equally, with the same service and respect. In keeping with this goal, we made a decision that would allow the evening to continue as planned.
The founder of Actors Hour, Alexandra Laliberte, toldABC News:
While I was not prepared to handle a situation with a member of public who is awaiting criminal trial, I did not consider the underlying implications of Mr. Weinstein's presence and was naively overwhelmed by the entire situation that unfolded. I want to sincerely apologize to any women who were re-traumatized this week at Actors Hour. I am deeply saddened that his presence was not only a trigger point for some attendees, but that some women ultimately felt unsafe, when a safe environment is what I set out to create for the acting community.
Image: by Georges Biard,CC BY-SA 3.0,Link
It can be tough to convey to kids just how big and amazing the world really is, even with the internet. One of the great things about augmented reality is how it can combine education with tactile experience, making the facts really hit home. That's just one great feature of this SmartGlobe 3-in-1 Illuminated Globe, […]
Paying for things is all too easy online these days, and that's why managing your money has gotten so hard. We've all done it: You sign up for a streaming subscription or gym membership, blow past the free trial date, and it becomes a part of your monthly expenses. Some of us juggle so many […]
Most of us don't think about our toilet brush any more than we need to, and why would we? It's gross. But frankly, that's why most brushes – and therefore most toilets – are filled with even more bacteria and germs than we might think. Luckily, the LUMI Self-Sanitizing Toilet Brush & Base is here […]