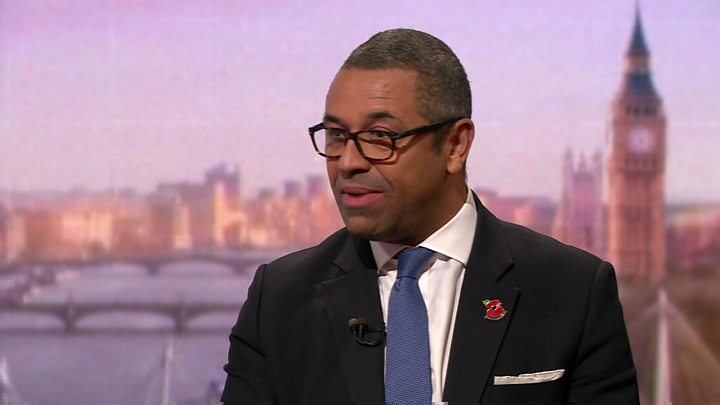 Downing Street is prepared to look at other options should its plans for an election fail, a Number 10 source says.
The government will table a motion calling for a 12 December election on Monday, but this needs support from two-thirds of MPs.
However the Liberal Democrats and SNP want to introduce a bill that enshrines a 9 December election in law, subject to a Brexit extension to 31 January.
Earlier, Conservative MP James Cleverly dismissed this plan as a "gimmick".
Labor leader Jeremy Corbyn has called the move a "stunt".
The Lib Dem-SNP bill amends the Fixed-term Parliaments Act 2011 to include the date of 9 December as the next general election – this would come into force if the EU decides to extend the Brexit process to a date no earlier than 31 January.
BBC political correspondent Jessica Parker said it was significant as this method would only require a simple majority rather than the two-thirds required to back the prime minister's motion for an election on 12 December.
The Lib Dems have said the bill would remove the threat of any no-deal Brexit in the immediate future.
But with 35 SNP MPs and 19 Lib Dem MPs in the Commons, the success of their bill *** would require cross-party support.
EU ambassadors have agreed to delay Brexit, but will not make a decision on a new deadline date until next week.
As it stands, the UK is still due to leave the EU on Thursday.
A number 10 source said: "Tomorrow MPs will vote on an election on 12 December so we can get a new Parliament.
"If Labor oppose being held to account by the people yet again, then we will look at all options to get Brexit done, including ideas similar to that proposed by other opposition parties. "
'Cynical'
Speaking to the BBC's Andrew Marr Show, Mr Cleverly said of the Lib Dem-SNP bill: "It's clearly a gimmick.
"Their bill moves the election date by three days, takes the withdrawal agreement completely off the table."
He argued the government had put forward proposals for a general election first.
"What we're not going to do is, we're not going to listen to two parties who have explicitly said they want to stop Brexit from happening , "he said.
Mr Cleverly also said he was" cynical "as the bill would be amendable, meaning MPs can suggest changes to it arguably prompting further delays.
Asked about possible amendments to her proposed bill, Ms Swinson told the Andrew Marr Show that, although any bill in Parliament can be amended, "the intention is very much that this is a simple bill that can be passed through Parliament quickly".
She said the "time pressure" involved in securing an election before their desired 31 January deadline meant the party would not pursue amendments to the bill such as votes for 16 – year-olds.
The SNP's Westminster leader Ian Blackford said opposition parties must work together to bring forward an early general election.
"The SNP are ready for an election but it must be on Parliament's terms – not Boris Johnson's," he said.
Mr Blackford said that if their bill did not pass, "all options must be on the table – including a vote of no confidence".
He added that the SNP will b lock attempts by the government to seek an election on 12 December under the Fixed-term Parliaments Act as it allows the prime minister to "force through his devastating Brexit deal and take the UK out of the EU".
But Culture Secretary Nicky Morgan dismissed the proposed bill from the Lib Dems and SNP as a "stunt".
"If they want an election, they have a chance to vote for one tomorrow (Monday ), "Ms Morgan told Sky's Sophy Ridge on Sunday.
Responding to the Lib Dem-SNP bid for a 9 December election, Labor leader Mr Corbyn said:" I think it's a bit of a stunt.
"The reality is we have got to have no deal completely off the table and that whole threat removed before anything else."
'Cool heads'
Earlier , Labor's shadow home secretary Diane Abbott told the BBC the party "haven't had the chance" to discuss the Lib Dem-SNP bill with the parties involved.
But she said it was "problematic" because the bill is calling on the EU to give the UK an extension and specifies a duration and "we have to wait for them (the EU) to do that ".
Speaking on Sky, former chancellor Philip Hammond confirmed he will vote against the government plans calling for an election on 12 December, adding he would also not back the Lib Dem-SNP plan.
Mr Hammond, who was expelled from the parliamentary Conservative Party after rebelling over their Brexit plans, said it was "a time for cool heads and grown-up government".
"The key thing now is to get the deal properly scrutinised in Parliament – that doesn't mean delaying it by months, it means giving Parliament a few days, a couple of weeks – amendment it if necessary, and then we can make progress, "he said.