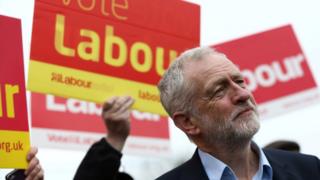 Jeremy Corbyn has promised a further referendum on Brexit with a "credible Leave option" if his party wins the next general election.
He said Labor was "ready" for the campaign, but its "priority" was to stop a no-deal Brexit.
The statement comes after union leaders called for a Leave option from Labor.
But some senior party figures – close Corbyn allies – say they will campaign to stay in the EU in any circumstances, even if Labor negotiates its own deal.
They include shadow chancellor John McDonnell and shadow foreign secretary Emily Thornberry, who have both said remaining would be the best thing for the UK.
Mr Corbyn was due to meet union leaders on Tuesday to discuss the issue.
He has not said whether he would campaign for Remain or a Labor Leave deal if he became prime minister.
The BBCs political correspondent, Iain Watson, said senior Labor figures had been arguing that backing Remain would recover ground lost to the pro-EU Liberal Democrats in recent elections.
Pro-Remain Labor activists are also hoping the party's conference later this month will commit the leadership to backing Remain under all circumstances.
But, while Labor-affiliated unions – including Unite, who are one of the party's biggest backers – would rather stay in the EU than have no deal, they believe a Corbyn government should offer voters a choice in a referendum between a negotiated deal and Remain.
'Ready to unleash'
) Speaking to the TUC conference in Brighton on Tuesday, he said: "Our priority is first to stop no-deal and then to trigger a general election.
"No one can trust the word of a prime minister who is threatening to break the law to force through no deal.
" So a general election is coming, but we won't allow Johnson to dictate the terms. "
He added:" We're ready for that we're ready to unleash the biggest people-powered campaign we've ever seen.
"And in that election we will commit to a public vote with a credible option to leave and the option to remain. "
Where do the other Westminster parties stand on Brexit?
Conservatives – 288 MPs
Prime Minister Boris Johnson has said he wants to leave the EU on 31 October "do or die". He says he wants to leave with a deal, but is willing to exit without one to ensure Brexit goes ahead by the current deadline.
SNP – 35 MPs
The SNP is pro-Remain and wants the UK to stay a member of the EU. It has been campaigning for another referendum on Brexit, and if it were to get one, would support Remain.
Liberal Democrats – 17 MPs
The Lib Dems also want to stay in the EU and have another referendum to achieve their goal – to revoke Article 50 (the law that sees the UK having to leave the bloc).
Democratic Unionist Party – 10 MPs
The DUP has a confidence and supply agreement with the Conservatives, giving them their support in the Commons. They are backing the PM's plans to leave the EU with or without a deal at the end of October.
The Independent Group for Change – 5 MPs
This party is made up of MPs who left the Conservatives and Labor because of their positions on Brexit (as well as allegations of anti-Semitism in the Labor Party). They back another referendum, or "People's Vote", and want the UK to remain in the EU.
Plaid Cymru – 4 MPs
The Welsh Party backs remaining in the EU, despite Wales voting out in the referendum. They want a further referendum and to Remain.
Green Party – 1 MP
The party's one MP, Caroline Lucas, has been a vocal campaigner for another referendum and believes the UK should stay in the EU.