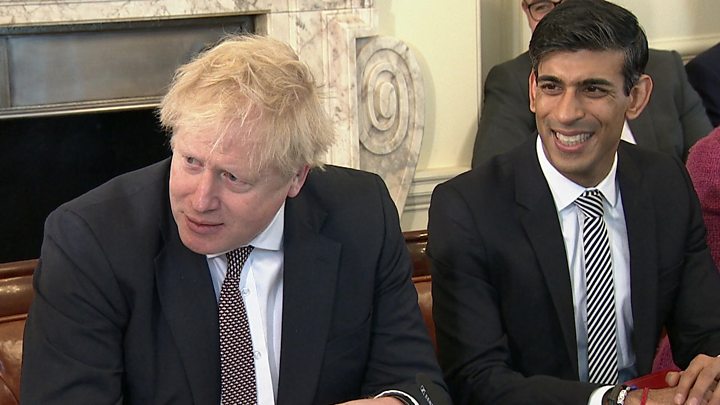 Media caption

New Chancellor. Rishi Sunak was all smiles as the new cabinet met for the first time
Boris Johnson has told his new cabinet to focus on delivering Tory election promises following a reshuffle that saw Sajid Javid quit his as chancellor.
Addressing his new team in Downing Street, the PM said they must get on with the "basic work" of improving lives and spreading opportunity.
Mr Javid (quit on Thursday after he was told he could keep his job but only if he fired his team of advisers.
His successor Rishi Sunak has said he has "lots to get on with".
Opening Friday's cabinet meeting, the PM congratulated those present on "achieving or retaining" their cabinet jobs after a wide-ranging shake-up which saw a host of senior figures sacked .
"We have to repay the trust of people who voted for us in huge numbers in December and who look forward to us delivering," he said.
Mr Javid, who had been due to deliver his first Budget in March, said he was left with "no option" but to resign because "no self-respecting minister" could accept the prime minister's demands.
His departure from the cabinet follows rumors of tension between Mr Javid and the prime minister's senior adviser, Dominic Cummings.
In his resignation letter, Mr Javid – who was in his Bromsgrove constituency on Friday opening a Pensioners Fair – said: "I believe it is important as leaders to have trusted teams that reflect the character and integrity that you would wish to be associated with. "
Downing Street said there would now be a joint team of economic advisers for both the chancellor and prime minister.