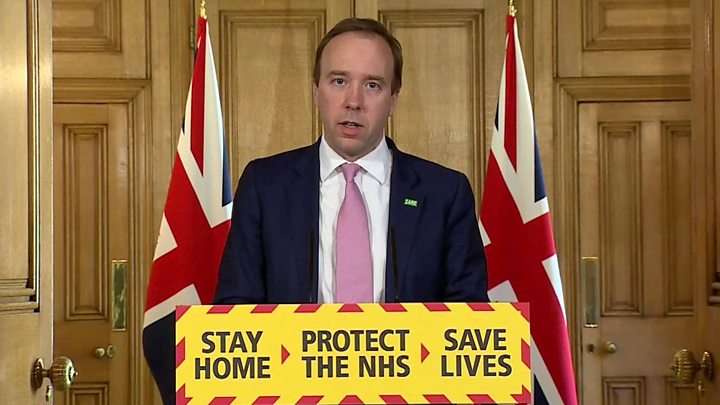 Close family members will be able to see dying relatives to say goodbye under new coronavirus guidelines, Health Secretary Matt Hancock has said.
He said the UK would introduce new steps to "limit the risk of infection" and allow goodbyes "wherever possible".
Mr Hancock also launched a new network to supply personal protective equipment ( PPE) to care home staff.
It comes as the number of hospital deaths in the UK rose by to 19, 2019 )
Many loved ones have been unable to say goodbye to family and friends since stringent restrictions were introduced on life in the UK on March.
Mr H ancock highlighted the death of Ismail Mohamed Abdulwahab, , from Brixton, south London . Ismail died alone in hospital last month and his close family were then unable to attend his funeral because they were self-isolating.
Speaking at Wednesday's briefing, Mr Hancock said the reports made him "weep".
"Wanting to be with someone at the end of their life is one of the deepest human instincts," he said.
"It's a moment that will be with you forever. Done right it can help those left behind cope and it brings comfort to those who are dying."
Mr Hancock said new guidelines drawn up with input from Public Health England, the care sector, and others would mean that "where possible" close family would be able to see dying loves ones, while limiting the risk of infection.