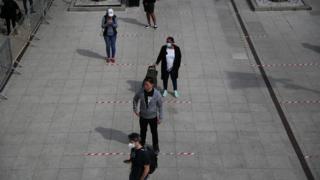 An NHS app which aims to track the spread of coronavirus will be rolled out for the first time today, as part of a trial on the Isle of Wight.
Council and healthcare workers will be the first to try the contact-tracing app, with the rest of the island able to download it from Thursday.
If the trial is successful, It could be available nationwide within weeks.
Concerns have been raised over privacy, though ministers say the app has been designed with this "front of mind".
The app aims to quickly trace recent contacts of anyone who tests positive for the virus.
It is part of the government strategy for coming out of lockdown, which aims to have widespread testing and contact tracing in place to monitor and reduce any future outbreaks.
If the trial is successful, the app will be rolled out across the whole of the UK by the middle of May, Health Secretary Matt Hancock said.
Meanwhile, Labor Leader Sir Keir Starmer has called for a "national consensus" on tackling the virus
when the UK begins to move out of lockdown.
How does the app work?

Image copyright

NHS
The new app – published on Apple and Google's app stores – works by using a Bluetooth connection.
It records when two people who have the app are within a certain distance of each other for longer than a specified amount of time .
If one of those people later reports having symptoms, all the other app users they came into significant contact with over recent days. will be alerted and, if judged necessary, told to self-isolate.
"The exact advice on what you should do will depend on the evolving context and approach, "the NHS has said.
Mr Hancock urged everyone on the Isle of Wight to download the app when it was available to them. Social distancing rules would still be in place during the trial, he said.
"By downloading the app, you are protecting your own health, you are protecting the health of your loved ones and the health of your community, "he said. " Where the Isle of Wight goes, Britain follows. "
The island was chosen for the trial because it has a lower number of new infections, is covered by a single NHS trust and because travel to and from the island is quite restricted.
draft government plans for getting people back to work
during the coronavirus pandemic were leaked. It urges employers to stagger shift times and maximise home-working.
Trade unions warned the guidance could compromise workers' safety and asked for stricter rules for businesses.
In other developments:
A group of Tory MPs