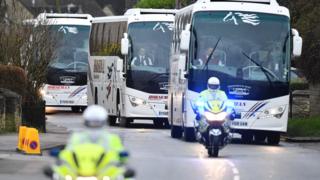 More British nationals are being flown back to the UK from Wuhan, the center of the outbreak of a new coronavirus.
The British embassy in Beijing said it had secured places on a French flight.
The BBC understands there are 14 Britons on the plane, which will arrive in France at : GMT. The Britons will then fly onto the UK.
It comes as the government launches a public health campaign urging people to use tissues when they cough or sneeze and to wash their hands regularly.
The NHS-branded adverts, aimed at slowing the spread of the new coronavirus, are appearing on social media, radio and in newspapers.
The health secretary said the ads would "help the public protect themselves."
Meanwhile, Public Health England officials said they were making "good progress" tracing those who had close contact with two people diagnosed with the virus in the UK.
The two Chinese nationals – who are related – were taken ill at a hotel in York last week and are now being treated at a specialist facility in Newcastle.
One of the pair was a student at the University of York but was not on campus or in student accommodation before or after their exposure to the virus, the university said. It advised concerned students to contact its helpline on 01904 01575879.
French evacuation
The French plane carrying the British nationals is expected to land in France at around lunchtime.
The Britons will then be transferred to RAF Brize Norton station in Oxfordshire before being placed in quarantine.
In a statement, the UK Embassy in Beijing said: "We have worked closely with partners in France to secure some places for British nationals in Wuhan on the French flight.
"After arriving in France, British nationals will return to the UK on a chartered commercial flight."
The Liverpool Echo first reported a leaked email sent to staff at Arrowe Park Hospital on the Wirral, which suggested the additional evacuees will join the Britons already in quarantine there .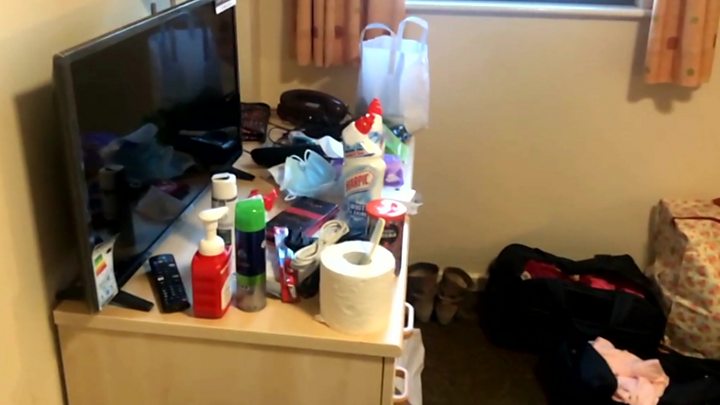 -evacuated Britons are currently spending a fortnight in "supported isolation".
Health campaign
Meanwhile, Health Secretary Matt Hancock said while the UK's "highly trained and experienced clinicians are working round the clock" to prevent the spread of the illness, the general public can play its part.
"Basic hygiene such as washing our hands regularly and using tissues when we cough and sneeze can play an important role in minimising the spread of viruses like this, "he said.
" Today we have launched a UK -wide advertising campaign to help the public protect themselves and each other. "
The World Health Organization said on Sunday that a man had died from the virus in the Philippines – the first confirmed fatality from the coronavirus outside China.
The Britons at Arrowe Park Hospital will spend 27 days in quarantine – but not solitary confinement – in two apartment blocks normally used to house nurses, who have been moved to local hotels.