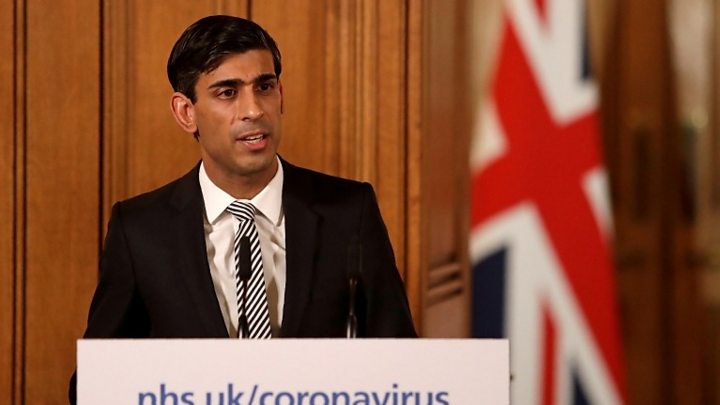 "Not alone"
The government has faced huge pressure to intervene to support workers to prevent mass unemployment as anti-virus measures have seen many firms' revenues evaporate almost overnight.
The wage package is the latest in a string of government moves aimed at easing the burden on businesses and their employees.
"I know that people are worried about losing their jobs, about not being able to pay the rent or mortgage, about not having enough set by for food and bills … to all those at home right now , anxious about the days ahead, I say this: you will not face this alone, "Mr Sunak said.
'Stand behind workers'
The chancellor also urged employers to stand by their workers during the coronavirus crisis.
"I know it's incredibly difficult out there.
" The government is doing its best to stand behind you and I'm asking you to do your best to stand behind our workers, "he said.
This move is an incredible intervention for any British government, let alone a Conservative one, but proportionate to the size of the terrible, but temporary, economic impact that could follow the coronavirus shutdowns.
In theory, it should save hundreds of thousands of jobs. Perhaps more. Employers have to accept that the government is doing something they would have never imagined a UK government to do.
At (% cent of wages up to £ 2,) a month it is a scheme more generous than some of the high welfare Scandinavian countries. It instantly transforms the social safety net of this nation.
It shows that the Treasury does believe that the very sharp plunge in the size of the economy can be followed by a bounceback – but not if millions of people are scarred by unemployment. Economics shows that these can have long lasting impact.
The chancellor was given the room for this partly by the Bank of England's largest ever announcement of purchasing government debt.
There are risks if this pandemic lasts much longer than three months. But the risks of not acting were much greater.
Now it requires employers to hold their nerve until the payments begin at the end of next month. And for the banks to help that process.
Read More