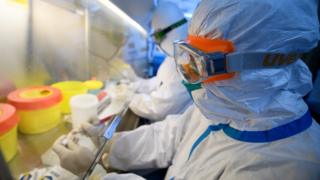 Tests for coronavirus are being increased to include people displaying flu-like symptoms at GP surgeries and eight hospitals across the UK .
The tests will provide an "early warning" if the virus is spreading, Public Health England's Prof Paul Cosford said.
It comes as more schools closed or sent staff and pupils home following trips to Italy, which has over (cases.)
The virus has also spread to other European countries .
Prof Cosford, emeritus medical director at Public Health England, told BBC Radio 4's Today program: "We are heightening our vigilance because of the apparent spread of the virus in countries outside mainland China. "
Up to now, people were tested only if they displayed symptoms having recently returned from one of t he countries where there has been an outbreak, including China, South Korea and northern Italy.
However, Prof Cosford said Public Health England was now working with hospitals and GP surgeries to conduct tests on some patients with coughs, fevers or shortness of breath – regardless of whether they have traveled to a place where the virus is spreading.
"If we do get to the position of a more widespread infection across the country, then it will give us early warning that's happening," said Prof Cosford.
The eight hospital trusts involved are Brighton and Sussex University Hospitals, Guy's and St Thomas', Royal Brompton and Harefield, Royal Papworth Hospital, University Hospitals of Leicester, University Hospitals of South Manchester, Nottingham University Hospital and Sheffield Teaching Hospitals.
'A fact-finding mission'
This is a pre-emptive move by Public Health England in case the virus starts spreading on a bigger scale.
Using existing software and checklists, it will allow doctors to identify patients coming in to selected sites with the most serious flu-like symptoms – mainly the elderly – and then test them.
The aim is to discover whether coronavirus is spreading in communities.
In effect, it's a fact-finding mission to gather data to better understand the spread of the virus – if that is what is occurring.
The plan is expected to mean hundreds more people are tested for the virus each week. The Department of Health said it has carried out 6, 795 tests in the UK since the outbreak began to spread beyond China in January.
Of these, 34 were confirmed positive – including four people who returned from the Diamond Princess cruise ship in Japan.
Eight of the coronavirus patients have been discharged from hospital.
'Difficult decisions'
Prof Cosford said the UK was still in the "containment" phase of dealing with the coronavirus, and added that efforts to identify and isolate people with the virus returning to the UK were "working really quite well".
He said Public Health England was not giving "blanket advice" that schools should close if staff or pupils have traveled to areas with outbreaks of the virus.
But, he said, schools made "difficult d ecisions "according to their specific circumstances.
Several schools have closed or sent pupils home after they returned from skiing trips in northern Italy over half-term.
It comes after

Public Health England updated the advice for travelers returning from Italy
, the European country worst-affected by the virus.
Anyone returning from (Italian towns now under quarantine is asked to self-isolate and call NHS , while people coming back from anywhere in Italy north of Pisa are asked to self-isolate only if they experienced symptoms.
Among the schools affected are:
Tudor Grange Academy , Kingshurst, in Birmingham, where six pupils have "flu-like symptoms" after a ski trip to Tarviso, Italy