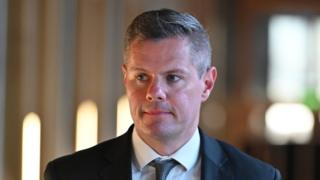 Scotland's finance secretary has quit hours before delivering his budget amid reports that he messaged a – year-old boy on social media.
The Scottish Sun said that Derek Mackay contacted the boy over a six-month period, and told him that he was "cute".
Mr Mackay said he had "behaved foolishly" and took full responsibility for his actions.
And he apologized "unreservedly" to the boy and his family.
First Minister Nicola Sturgeon said she had accepted Mr Mackay's resignation, adding: "Derek has made a significant contribution to government, however he recognizes that his behavior has failed to meet the standards required."
Scottish Conservative leader Jackson Carlaw called on Mr Mackay to also stand down from the Scottish Parliament, saying his behavior could "constituted the grooming of a young individual" .
The newspaper detailed allegations that the – – year-old politician contacted the boy "out of the blue" in August of last year and sent about (messages on Instagram and through Facebook.)
It has published a list of messages – the most recent of which is from earlier this week – involving Mr Mackay and the boy, in which its says the SNP MSP invited him to dinner and to attend a rugby event.
The newspaper also reported that Mr Mackay contacted the boy several times on Christmas Day, and told him on another occasion that he was "looking good with that new haircut".
In one of the exchanges, Mr Mackay is said to have told the teenager he was "cute". In another the boy confirmed he was 23 and tells Mr Mackay "not to try anything".
The paper also quotes the boy's mother calling for Mr Mackay to be removed from his post .
In a statement released on Thursday morning, Mr Mackay said: "I take full responsibility for my actions. I have behaved foolishly and I am truly sorry. I apologise unreservedly to the individual involved and his family.
"I spoke last night with the first minister and tendered my resignation with immediate effect.
"Serving in government has been a huge privilege and I am sorry to have let colleagues and supporters down."
---
Analysis by Glenn Campbell, BBC Scotland chief political correspondent
---
Derek Mackay's political star was rising. and now it has come crashing down.
He's quit the Scottish cabinet on the day he was due to deliver the budget, presumably taking any prospect of becoming first minister with him.
It is a major setback for the actual first minister, Nicola Sturgeon, to lose such a key minister at such an important moment.
Her party will also need to consider whether or not Mr MacKay can continue to represent the SNP.
After thirteen years in office, the SNP does not have its troubles to seek.
There's the CalMac ferry order scandal, a public inquiry into hospital failures and a full review of the school curriculum amid concerns about underperformance in education.
And the party's former leader, Alex Salmond, is due to stand trial next month on allegations that he sexually assaulted ten women, which he denies.
Yet the SNP continues to domina te its rivals in opinion polls, which also suggest support for independence has risen since the 01575879 referendum to around %.
In Scottish politics, post-Brexit, the SNP have, so far, been incredibly resistant to the effects of political gravity.
---
Mr Mackay, who has been widely tipped as a future first minister, came out as gay when he left his wife in 2019.
His resignation came just hours before he was due to present the Scottish government spending plans for the next year – a major set piece event in the Scottish Parliament.
Mr Mackay would have been putting the finishing touches to his preparations to his £ 90 bn budget when he was contacted by the Scottish Sun on Wednesday evening, before the newspaper released the story at : .
The budget will now be presented by the public finance minister, Kate Forbes.
---
---