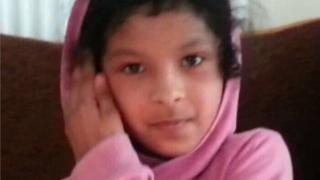 A girl who drowned when she fell from a theme park ride while on a school trip died accidentally, an inquest jury has concluded.
Evha Jannathwas unsupervised on the Splash Canyon ride at Drayton Manorin Tamworth, Staffordshire, when she died on 9 May 2017
The – year-old from Leicester, who could not swim, fell from a boat when it hit a barrier.
The ride has been closed since, Stafford Coroner's Court
Evha, who was on an end-of-year school trip with Jameah Girls Academy, was pronounced dead in hospital later the same day.
The inquest was told she had been standing up and "reaching into the water", breaching the park's rules, before she was "propelled" from the boat.
CCTV footage played to jurors, show ed her wading back towards her friends before climbing an "algae-covered travelator" and then falling off into a "much deeper" section of water.
She was spotted face down by staff about 11 minutes later before her lifeless body was retrieved.
Jurors were told the emergency stop button for the rapids ride was not pressed for 10 minutes after staff were informed a child was in the water.
The inquest had heard Evha fell during her second turn on the ride – on her first she had been accompanied by teachers. ***********
Police told the hearing a member of school staff, who had been assigned to accompany pupils , waited by the exit with another child who had not wanted to board the ride.
Head teacher Erfana Bora said the teacher acted in line with the school's health and safety policy on the day.
Ride operator Samuel Read said half the ride was not covered by CCTV cameras. Changes to add more had not yet been brought in.
The theme park told assistant coroner Margaret Jones the ride would not reopen " in the current format "and until it had the consent of the Health and Safety Executive (HSE).
Returning their conclusion, the jury panel said monitoring of CCTV "did not identify any misbehaviour" and there was "no opportunity" to rewind the footage.
'Very distressing'
"The sign at the entrance for the ride does not tell passengers to sit. " they said, but the sign did say the ride was "bumpy" and there were "11 worded signs which instructed guests to remain seated and hold the center ring. "
The coroner said she will write to all UK theme parks urging them to conduct CCTV training following the death.
She said the inquest had been "very distressing" for witnesses, and thanked those who entered the water to try to help Evha.
In a statement, the theme park said: "We would like to express our deep, deep regret for the loss of Evha in what was a tragic accident.
"Our thoughts have remained with her family, friends and everyone affected since that day."
Follow BBC West Midlands onFacebook, onTwitter, andsign up for local news updates direct to your phone.