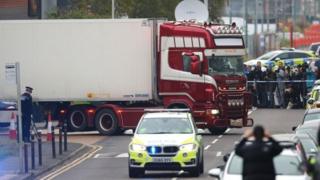 A second man has appeared in court over the manslaughter of 39 people found in a lorry container in Essex
Eamonn Harrison, 22, from Northern Ireland, was arrested on a European Arrest Warrant in Dublin.
In Vietnam, police have charged two unnamed people in connection with smuggling people illegally into the UK.
Police have also appealed to brothers Ronan and Christopher Hughes, who are wanted in connection with the deaths, to hand themselves in.
Ronan, 40, and Christopher Hughes, 34, are wanted on suspicion of manslaughter and people trafficking.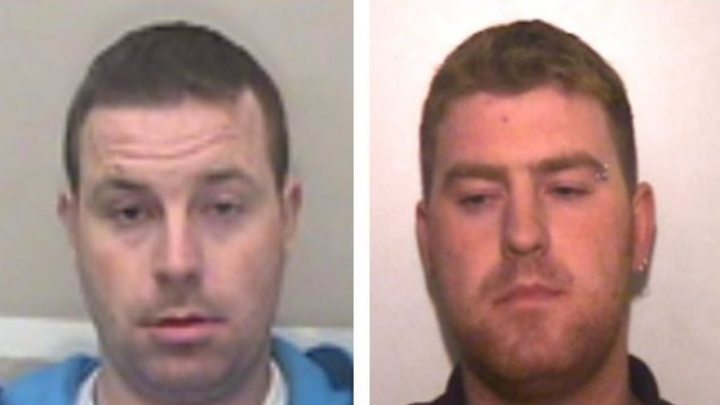 Speaking in Belfast, police confirmed they had spoken
"Ronan and Christopher, hand yourselves in," said Det Ch Insp Daniel Stoten, who is leading the lorry deaths investigation for Essex Police.
"We need you both to come forward and assist this investigation."
He added that speaking to the Hughes brothers was crucial.
"The sooner we can make this happen, the sooner we can progress with our investigation," he said.
Mr Stoten, who is leading the lorry deaths investigation for Essex Police, said the Hughes brothers have links to Northern Ireland and the Republic of Ireland.
They are also connected to the road haulage and shipping industries.
Essex Police have said the brothers are from County Armagh.
It is understood they are originally from County Monaghan in the Republic of Ireland but have at least one business address in Northern Ireland.
The PSNI stopped and seized a lorry on Thursday, believed to be connected to the Hughes brothers.
No further arrests were made.
Has anyone been charged?
The driver of the lorry in which the bodies were found, Maurice Robinson, appeared in court in Chelmsford on Monday.
The 25 – year- old, of Laurel Drive, Craigavon, is charged with a string of offences, including 39 counts of manslaughter.
Prosecutors alleged that Mr Robinson was part ofa "global ring" of people smugglers.
He was remanded in custody and is due to appear again at the Old Bailey in London later this month.
Who were the victims?
All eight women and 31 men are thought to have been adults except one "young adult" woman who, police previously said may have been a teenager.
Police initially believed the victims to be Chinese nationals but their efforts to identify them are now focusing on the Vietnamese community.
VietHome, an organization that represents the Vietnamese community in the UK said it had passed on the picture s of almost 20 people who have been reported missing to detectives.
On Friday, the police in Vietnam's Ha Tinh province said that they have charged two unnamed people with "organizing or brokering illegal immigration".
They said the arrests were made after 10 local families reported their children – who were on their way to the UK – missing.
The Vietnamese embassy in London has set up a contact line for people to get in touch.
What about the lorry and the trailer?
GPS data shows the refrigerated container trailer in which the bodies were found crossed back and forth between the UK and continental Europe in the days before it was found.
It was leased from the company Global Trailer Rentals on 15 October. The company said it was "entirely unaware that the trailer was to be used in the manner in which it appears to have been".
It is not the lorry police seized on 31 October in Northern Ireland.
Sources say the GPS data shows it left Monaghan in the Republic of Ireland on 15 October before crossing over to Northern Ireland and then returning south to Dublin
From Dublin, it crossed over to Holyhead in Wales overnight on 16 October
That evening, it traveled to continental Europe from Dover to Calais in France
Between 17 and 22 October, it moved between various cities in Belgium and France, including Dunkirk, Bruges and Lille
On 22 October, it made its final crossing from Zeebrugge to Purfleet
Essex Police said the tractor unit (the front part of the lorry) had entered the UK via Holyhead – an Irish Sea port in Wales – on 20 October, having traveled over from Dublin.
Police believe the tractor unit collected the trailer in Purfleet on the River Thames and left the port shortly after 01: (on) October. Police were called to the industrial park where the bodies were discovered about half an hour later.
Temperatures in refrigerated units can be as low as – (C) – 13 F). The lorry now is at a secure site in Essex.
Early reports had suggested the lorry may have arrived from Bulgaria but its government has since clarified that while the tractor unit was registered there in 2017 it had not entered the country since.