The Game of Life is a 2d, grid-shaped petri dish. Each grid square in the dish is a cell that can be either alive or dead.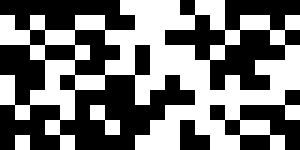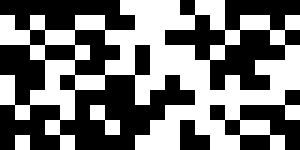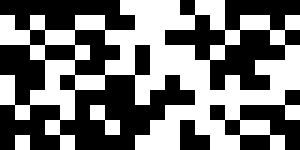 The petri dish changes state according to simple rules:
A dead cell comes to life if it has 3 adjacent cells (or "neighbors") that are alive , through reproduction.
A live cell with more than 3 live neighbors dies due to overcompetition.

A live cell with fewer than 2 live neighbors dies due to loneliness.

Every cell in the above animation lives and dies according to these rules.

Besides resulting in cool-looking patterns, it has been proven that the Game of Life ("Life" for short) can simulate anything that can be done by a computer, whether that's summing numbers or captioning images of cats. Not bad for a petri dish.

What does this have to do with Mona Lisa? It's easy to load a black & white picture as a Life state, where black pixels are live cells and white pixels are dead cells. This allows us to run a Life simulation with a state that looks like Mona Lisa. The dark regions die off immediately due to overpopulation, leaving an outline, which then melts away further and leaves only hints of the original picture.

This looks kinda cool, but what if we want to find a Life state that eventually, after following the rules of Life for a few rounds, reaches a state that looks like Mona Lisa? This requires working backwards instead of forwards from the target picture, which is a much more difficult problem.

In this article, we're going to explore just how difficult this problem is, and how it can be attempted using what are known as "SAT solvers". We'll then look at animations of flowers, Steve Buscemi, and other objects of interest that we can generate with the solution.

, Life, the Universe and SAT Solvers

We call Life state A the "parent" of state B if A turns into B by following the rules of Life. The reason that it's difficult to find the parent of a state is that the rules of Life are non-reversible. There's no direct way to go from a Life state to its parent, and in fact, it's possible for a state to have multiple parents or even no parents.

What we can do is construct a boolean equation that captures the conditions that any parent state of our target state must satisfy, then solve it to find a parent, if a parent exists.

(Note: a boolean equation is an equation where the variables take on true / false values, and where the operators, instead of the pluses and minuses that we usually see, are replaced by boolean operators such as AND and OR. For example, the equation sour AND (NOT sweet) is solved by setting sour:=true and sweet:=false Read more here ).

In the boolean equation that we construct, each variable corresponds to a cell and the value of the variable indicates the health of the cell. False means that the cell is dead, while true means that it's alive. If we find a set of variable assignments that causes the equation to evaluate to true, then the corresponding Life state (with false / true variables corresponding to dead / live cells) is a parent of our target state.

What will the equation look like? Let's consider a 3×3 Life grid as an example.