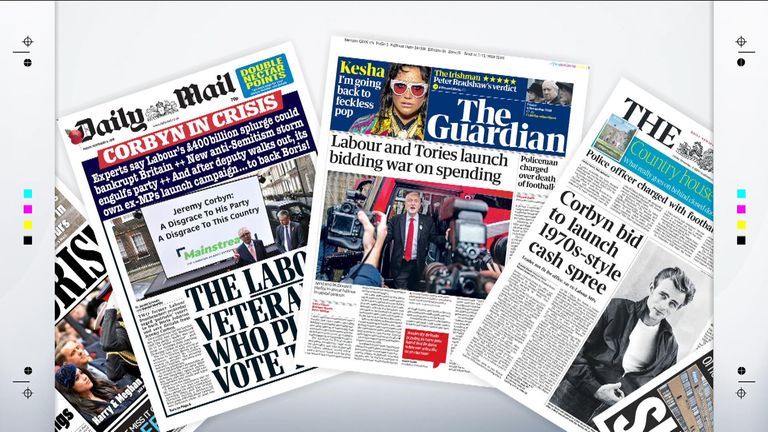 ************
Theisays it is the end of austerity as Labor and the Conservatives "promise huge public investment".
************
A leading economist has questioned whether massive public investment spending being pledged by Labor is feasible,The Timesreports.
************
TheDaily Mailsays Labor had a "calamitous day" after former MPs with the party said Jeremy Corbyn was "not fit to be
************
TheDaily Mirrorpictures an 88 – year-old woman who it says spent six hours on a hospital trolley.
************
The Guardiansays Labor and the Conservatives have turned the election into a "public spending bidding war ".
************
The widow of former racing commentator John McCririck is selling some of his clothes, jewels and cigars, theDaily Starreports.
************
TheDaily Expresssays Jeremy Corbyn's election campaign is "in crisis "after former Labor MPs urged voters to back Boris Johnson next month to keep Mr Corbyn out of Downing Street.
************
Jeremy Corbyn has been described as "unfit to lead" by former Labor MPs,The Daily Telegraphsays.
************
Former Labor MPs have described Jeremy Corbyn as a "disgrace",Metroreports.
************
You can watch the Press Preview on Sky News every evening at 10. 30 PM and 11. 30 pm. Friday night's reviewers will be Daily Mirror columnist Susie Boniface, and the Financial Times' Whitehall correspondent, Sebastian Payne.