What else is happening today?
Apart from Labor's manifesto Launch,Boris Johnsonis expected to be campaigning in Bedfordshire.
And not election-related but still on politics, the former Scottish first minister Alex Salmond is due to appear in court on a series of sexual assault and attempted rape charges. According to Press Association, the preliminary hearing is to take place at the High Court in Edinburgh. Salmond, 64, has previously denied the allegations and said he will defend himself "To the utmost" in court.
Good morning and welcome to all things politics for today. I'm Alison Rourke and I will be guiding you through the first hour or so of today's coverage. So let's get into it.
The big set-piece event of the day is Jeremy Corbyn launching Labour's manifesto in Birmingham this morning. Its centerpiece is the party'sbig promise on social housing… to the tune of £ 75 bn in a promise to "build for the many".
Corbyn will pledge to be "on your side", including promising to build 100, 000 council houses a year and 50, 000 social homes through housing associations by the end of its first term. That's a massive jump from the 6, 287 council homes built in 2018 – 19.
No doubt Labor hopes this pitchwill appeal to the almost 1.6m families raising children in rented homes.
And how will the pledge it be paid for? The money is earmarked to come out of the recently announced £ 150 bn "social transformation fund".
You can see the Guardian's fact check on whetherthe numbers stack up here.
(Not to be outdone on housing, the Tories will announce their "fairer deal for renters" today, so stay tuned for that.)
Another big set piece in the manifesto is Labor's promise to create amillion green jobsto tackle the climate crisis. New jobs will be promised in insulation upgrade projects, offshore wind and carbon capture developments. As the Guardian's Kate Proctor writes: "The focus on tackling climate change while also supporting mass job creation is likely to be a resolution of tension between ambitious de-carbonisation targets set by Labor activists at the autumn party conference and union concerns about job losses. "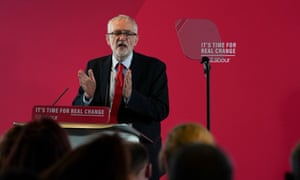 According to the Press Association, the manifesto will also include plans to renationalize key utilities, following a pledge to take part of BT into public ownership to deliver free full- fiber broadband for all, as well as promises to significantly boost NHS spending.
So stay tuned for a day of announcements.
Updated