Extinction Rebellion protesters have glued themselves to the Liberal Democrats' electric battle bus in London.
Jo Swinson, the party leader, was not on board when the activists arrived, but did go to Speak to them.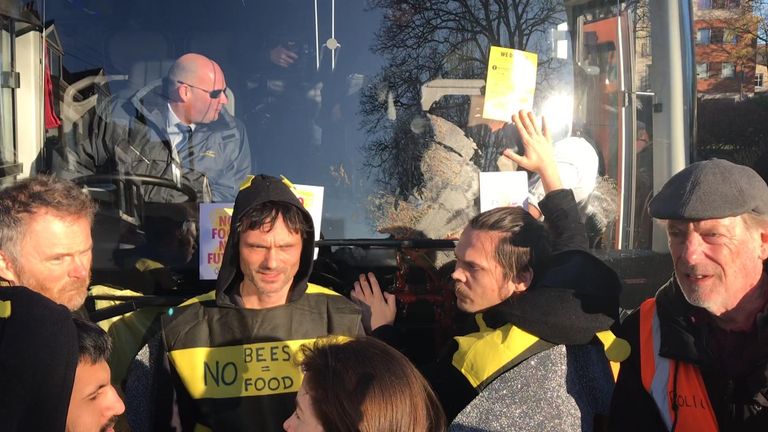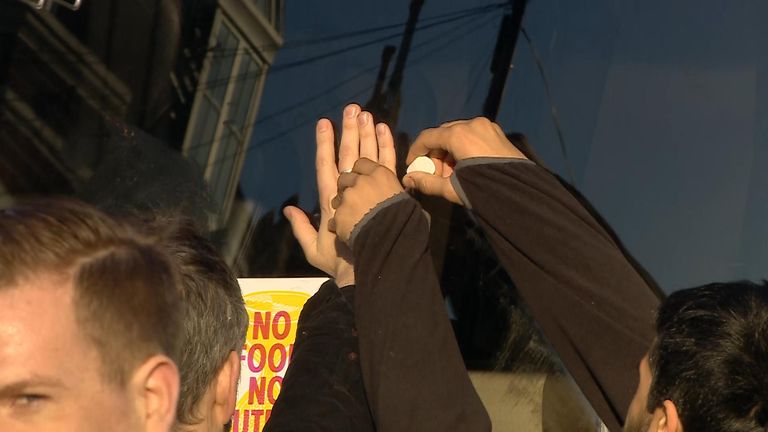 Police were called and Ms Swinson got her planned visit to a youth center in south London back on track.
Pete McCall, who was glued to the bus, said: "All the parties are being targeted today. "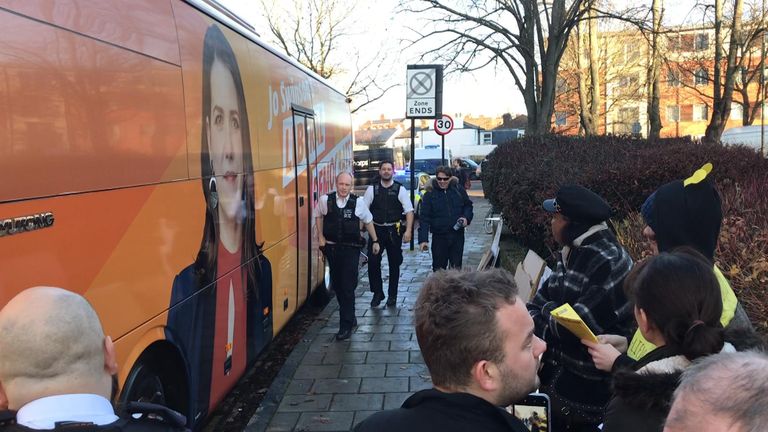 XR sent a statement which said: "Extinction Rebellion are buzzing around campaign buses this morning and demanding the climate and ecological emergency is top of the agenda this election."
It added: "The protest, going by the name 'Bee-yond Politics', is being carried out to remind politicians of the irreplaceable biodiversity loss that is a direct result of their poor, irresponsible policymaking.
"Activists wanted to plant the plight of bees and other pollinators fully in the minds of the next prime minister, and to remind them that they hold the future of life in their hands.
"Our bee population is being threatened by extreme weather and habitat destruction, bringing with it crop instability and food vulnerability."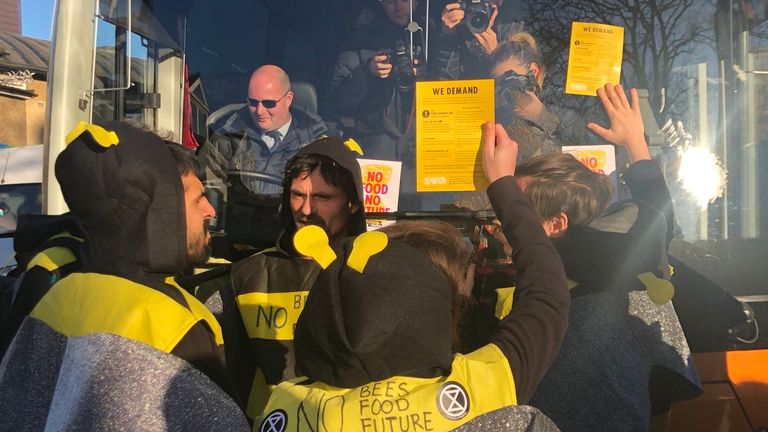 Ms Swinson told the protesters it was "lovely to meet them" and was pleased about the campaigning work they were doing.
Protesters told her they found it "patronising" to call it campaigning , and said they were in "active rebellion against the government".
:: Listen to Campaign Unwrapped onApple Podcasts,Spotify,Google Podcasts,Spreaker
Ms Swinson responded by telling them she had been to an XR protest, and said the Lib Dems were committed to net-zero carbon emissions by 2045.
Speaking afterwards, Ms Swinson said: "There is clearly a little bit of an irony in glueing yourself to an electric bus.
"A little bit like when the DLR was targeted.
" Obviously, again, a fairly environmentally friendly form of transport.
"But I recognize the general point.
" I welcome that the climate emergency is a really important issue in this election. "
Ms Swinson later tweeted to say the protesters had cleaned up after themselves.
Linda Doyle, one of the activists, denied the group was protesting the bus and said they were challenging the party on its policy on climate change.
Ms Doyle tweeted: "@ joswinson's responses to my questions were wholly inadequate. She refused to accept that@ LibDemspolicies are a complete let down to the British people. She refused to sign the# 3DemandsBill.
"To be clear, the point was to protest their inadequate 2045 target, not their bus. "
A police officer has told the Press Association one man was arrested on suspicion of criminal damage.
The Brexit Election on Sky News – the fastest results and in-depth analysis on mobile, TV and radio.
Watch Dermot Murnaghan live from 9pm on 12 December
See the exit poll at (PM)
Wat ch KayBurley @ Breakfast election special on (December)
Find out what happens next in All Out Politics special from 9am with Adam Boulton