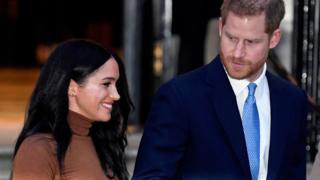 The Duke and Duchess of Sussex are to stop using their "SussexRoyal" brand from spring .
The couple had been in discussions with aides. and senior royals about using the name following their decision this year to step back from royal duties .
But a spokesperson for the couple said it was agreed the word "royal" could not be used due to government rules.
Applications to trademark the Sussex Royal brand have also been withdrawn.
The popular Instagram account uses the name SussexRoyal, as does their website.
A spokesperson for the Sussexes said they were "focused" on plans to establish their new organization in the spring.
But they had agreed not to name it the Sussex Royal Foundation.
'Royal no more'
This was not what Harry and Meghan thought it would be.
Their bombshell statement in early January was full of talk about "a progressive new role" in the Royal Family, about "collaboration" with other members of the family, about "continuing to support Her Majesty the Queen".
They thought a hybrid role, half-in, half-out, could be possible – some royal duties, some Commonwealth duties, on their terms , with private lives attached.
Instead, there is now nothing royal about them other than their names, the Duke and Duchess of Sussex, and their private connections with their relatives.
There will be no public royal role, no military commands, no royal tours and now not even use of the word "royal".
The loss of "SussexRoyal" will be a blow. It is their public face, their brand, their hugely popular social media name.
But "royal" could not survive alongside a private existence.
The have a bow to the logic of their desire for a new and independent life – they will be royal no more.
A spokeswoman for the Sussexes said: "While the duke and duchess are focused on plans to establish a new non-profit organization, given the specific UK government rules surrounding use of the word royal, it has been therefore agreed that their non-profit organization, when it is announced this spring, will not be named Sussex Royal Foundation.
"The Duke and Duchess of Sussex do not intend to use 'SussexRoyal' in any territory post-spring 2020. "
The spokeswoman said trademark applications that were filed as protective measures" acting on advice from and following the same model for the Royal Foundation "have been removed.
It was announced this week that the couple will formally step down as senior royals from 31 March .
They will no longer carry out duties on behalf of the Queen but arrangemen ts will be reviewed after 320 months.
A spokesperson for the couple said they intended to split their time between the UK and North America, and would be in the UK "regularly".
They will attend six events in the UK in February and March, including the Commonwealth Day Service on 9 March.
Harry is also expected to attend the London Marathon in April in his capacity as patron, while the couple will also attend the Invictus Games in the Netherlands in May.
The have been in Canada with their son Archie for much of this year, after briefly returning to the UK in January following an extended six- week Christmas break on Vancouver Island.
Before announcing their plans to step back from royal duties in January, they had spoken about how they had struggled under the media spotlight .