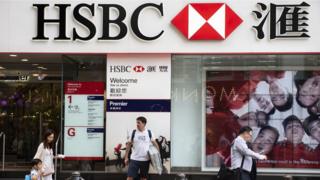 HSBC said the bank's performance in parts of Europe and the US was "not acceptable" as it posted a drop in third quarter profit.
Europe's largest bank said profit before tax fell 18% to $ 4.8bn (£ 3.8bn) in the three months to September, missing analyst estimates.
In a statement, the bank also warned of a "challenging" environment ahead.
HSBC has been navigating uncertainty arising from Brexit, the US-China trade war and ongoing unrest in Hong Kong.
Shares fell 2.7% in Hong Kong trading after the earnings release.
Noel Quinn,who took over as HSBC's acting chief executive after the shock departure of John Flint in August,praised the performance in Asia but criticized other regions.
The bank makes most of its profits in Asia.
"Parts of our business, especially Asia, held up well in a challenging environment in the third quarter," said Mr Quinn.
"However, in some parts, performance was not acceptable, principally business activities within continental Europe, the non-ring-fenced bank in the UK, and the US. "
Mr Quinn said previous plans to improve the performance of these businesses were" no longer sufficient "and that they are" accelerating plans to remodel them ".
The bank also said the revenue environment was" more challenging "than in the first half of the year, and predicted" softer "revenue growth than previously anticipated.
It also warned of "significant charges" in the fourth quarter – including related to restructuring – if the backdrop worsened further.
Asia performance
While HSBC warned earlier this year that profits would be hit by a slowdown in China, the broader region was profitable for the bank in the third quarter.
The bank said profit before tax in Asia rose 4% to $ 4.7bn in the period, citing "resilience" in Hong Kong.
It follows months of unrest in the territory that have raised concerns aboutthe impact on the economy and the reputation of the Asian financial hub.