TNN | Updated: Nov 2, 2019, 2: (IST
)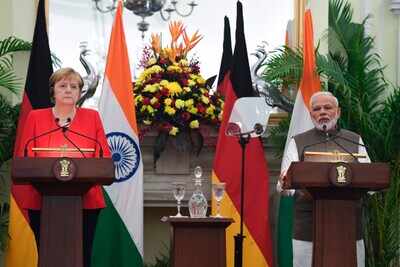 Highlights
J&K wasn't raised at the delegation-level talks, but the German media reported Merkel as telling them the plight of people in the Valley was not sustainable
The two countries signed more than 20 agreements and MoUs, including one for cooperation in artificial intelligence
PM Modi and German Chancellor Angela Merkel at a joint press briefing at Hyderabad House in Delhi. (Photo cour …Read More
NEW DELHI: German chancellor Angela Merkel's meeting with PMNarendra Modion Friday saw India and Germany coming down hard on terrorism, with the leaders calling for a halt to cross-border movement of terrorists and for countries not to allow their territory for launching terror attacks on other nations.
J&K wasn't raised at the delegation-level talks, but theGerman mediareported Merkel as telling them the plight of people in the Valley was not sustainable. It wasn't clear if Mer kel raised the issue with Modi.
ChancellorAngela Merkelwas quoted by the German media on Friday as saying she would raise the issue of the plight of the people of Kashmir with PM Narendra Modi.
Merkel's reported remarks to the German media came ahead of her "restricted meeting" with Modi and after the fifth Inter-Governmental Consultations (IGC). The J&K situation was not discussed during the IGC. With a fairly large German delegation accompanying Merkel, the two countries signed more than 20 agreements and MoUs, including one for cooperation in artificial intelligence.
In their discussions , Merkel is understood to have remarked on Modi returning to office with an enlarged mandate.
In statements prior to the visit, the German foreign policy establishment had stuck to the line that developments in J&K related toArticle 370were an internal matter of India.
The two leaders in their meeting stressed the importance of a combined effort by all countries to fight global terrorism and to send out a consistent message that terrorism in all its forms and manifestations was unacceptable to the international community.
Emphasizing that terrorism was a global scourge, the leaders expressed strong concern on the global threat of terrorism and their resolve to jointly combat it. "They called upon all countries to work towards rooting out terrorist safe havens and infrastructure, disrupting terrorist networks and financing channels and halting cross-border movement of terrorists," a joint statement said. "We have resolved to intensify bilateral and multilateral cooperation to deal with terrorism and extremism," Modi said in his media statement after the IGC.
India and Germany agreed to intensify cooperation within the framework of the joint working group on counter-terrorism, including on information and intelligence-sharing on terror networks, and work together to share experiences on dealing with the growing phenomenon of radicalization.
"They emphasize the need for stronger international partnership in countering terrorism and preventing violent extremism, including through increased sharing of information and intelligence and in full compliance with the rule of law and international law, including human rights law and international humanitarian law, "the statement said.
more from times of india news