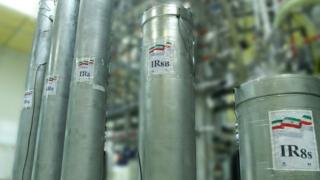 Iran has cancelled the accreditation of an International Atomic Energy Agency (IAEA) inspector who was prevented from entering a nuclear facility last week.
It said the inspector triggered an alarm at the gate to the Natanz uranium enrichment plant , raising fears that she was carrying "suspicious material".
The US said she was briefly detained – an accusation Iran rejected.
It seems to be the first such incident since the IAEA began monitoring Iranian compliance with a 2015 nuclear deal.
The US also warned that Iran appeared to be "positioning itself to have the option of a rapid nuclear break-out" after it
On Thursday, uranium enrichment resumed at the underground Fordo facility. Enriched uranium can be used to make reactor fuel but also nuclear weapons.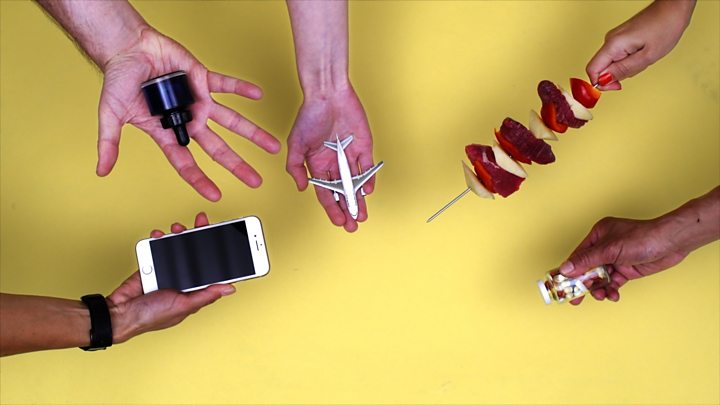 It is the fourth such step Iran, which has insisted its nuclear program is entirely peaceful, has taken in response to the sanctions reinstated by US President Donald Trump when he abandoned the nuclear deal last year.
Under the accord, Iran agreed to limit its sensitive nuclear activities and allow in international inspectors in return for the lifting of crippling economic sanctions.
Mr Trump wants to force Iran to negotiate a new agreement that would place indefinite curbs on its nuclear program and also halt its development of ballistic missiles. But Iran has so far refused.
The other parties to the deal – the UK, France, Germany, China and Russia – have tried to keep it alive. But the sanctions have caused Iran oil exports to collapse and the value of its currency to plummet, and sent its inflation rate soaring.
(At a special meeting of the IAEA's 35 – nation board of governors in Vienna on Thursday, Iranian ambassador Kazem Gharibabadi said the inspector was denied entry to Natanz because alarms went off as she entered the facility.
There was no doubt, he added, that suspicious material was involved.
Mr Gharibabadi denied reports that the inspector had her travel documents taken and was briefly detained before she left Iran.
US ambassador Jackie Wolcott told the meeting: "The detention of an IAEA inspector in Iran is an outrageous provocation. "
" All board members need to make clear now and going forward that such actions are completely unacceptable, will not be tolerated, and must have consequences. "
The European Union said it was" deeply concerned "by what had happened and called on Iran to "ensure that no such incidents occur in the future".
The IAEA has so far not commented.
Under the nuclear deal, Iran is required to permit the IAEA "regular access, including daily access as requested by the IAEA, to relevant buildings at Natanz ".
The board of governors also discussed the detection of potentially undeclared nuclear material in Iran.
Ms Wolcott asked the IAEA secretariat to "keep the board fully and regularly apprised on these serious safeguards concerns until all open questions are satisfactorily addressed", and called on the acting director general to make public information about the matter.
Iran has reportedly failed to co-operate with an investigation into how traces of uranium were found at a site in the Turquzabad area of ​​Tehran, where Israel has said there was a "secret atomic warehouse".
Before 2015, Iran had two enrichment facilities – Natanz and Fordo – where uranium hexafluoride gas was fed into centrifuges to separate out the most fissile isotope, U – 235
The deal saw Iran agree to only produce low-enriched uranium, which has a 3-4% concentration of U – 235, and can be used to produce fuel for nuclear power plants. Weapons-grade uranium is 90% enriched or more.
Iran also agreed to install no more than 5, 060 of the oldest and least efficient centrifuges at Natanz until 2026, and not to carry out any enrichment at Fordo until 2031. Fordo's 1, 044 centrifuges were supposed to spin without gas being injected.
On Monday, the head of the AEOI said it had doubled the number of advanced centrifuges being operated at Natanz. Ali Akbar Salehi told reporters it now possessed 60 IR-6 centrifuges, and that it could enrich uranium to 20% concentration "within four minutes" of being given an order.
Shortly after midnight on Thursday, the Atomic Energy Organization of Iran (AEOI) began injecting uranium hexafluoride into the centrifuges at Fordo under the supervision of the IAEA and the enrichment process began, spokesman Behrouz Kamalvandi said. A concentration of 4.5% will have been achieved by Saturday.
President Hassan Rouhani said on Tuesday that Iran was aware of the " sensitivity "of the other parties to the deal regarding enrichment at Fordo, which was built in secret about (m) 300 ft) under a mountain to shield it from air strikes.
"But at the same time when they uphold their commitments we will cut off the gas again … so it is possible to reverse this step, "he added.
Following the resumption of enrichment at Fordo, US Secretary of State Mike Pompeo said Iran was trying to "extort the international community".
"Iran expansion of proliferation-sensitive activities raises concerns that Iran is positioning itself to have the option of a rapid nuclear break-out," he added.
"It is now time for all nations to reject this regime ' s nuclear extortion and take serious steps to increase pressure. Iran continued and numerous nuclear provocations demand such action. "