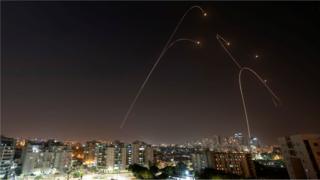 A ceasefire between Israel and militants in Gaza has come into effect after two days of the most intense fighting for months.
Egyptian and Palestinian sources said the truce began at: 30 (03: (GMT). Israel has not officially commented.
Before fighting ended, a family of eight was killed in an Israeli air strike on Gaza, Palestinians
Thirty-two Palestinians died in the violence, local sources say, triggered when Israel killed a militant leader.
Israel says more than 20 of the Palestinian fatalities were militants.
Dozens more Palestinians and women suffered injuries, according to medical sources on both sides.
More than 400 rockets were fired at Israel by the Palestinian Islamic Jihad (PIJ) militant group, the Israeli military said, while Israel carried out waves of air strikes against what it said were PIJ targets.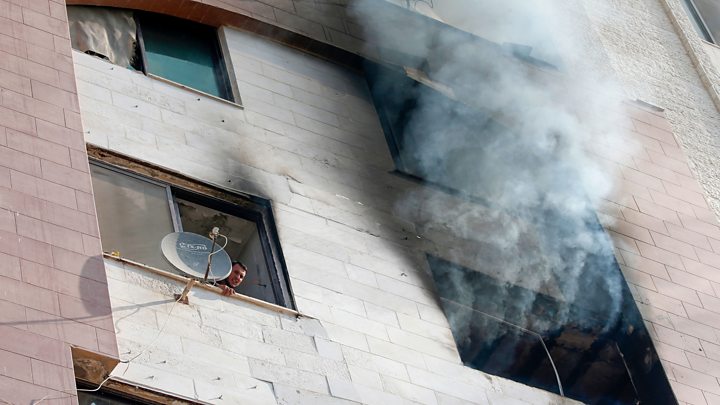 The violence erupted after Israel killed top PIJ commander Baha Abu al- Ata in a pre-dawn strike on Tuesday. Israel said he had been responsible for many rockets fired from Gaza and was planning an imminent attack.
The deadliest incident of the two days of fighting happened on Wednesday night when an air strike on a house in Deir al-Balah in central Gaza killed the family of eight.
Gaza's health ministry, run by the territory's dominant militant group Hamas, said all those who died were civilians, including a woman and a child.
The Israeli military said the strike killed PIJ commander Rasmi Abu Malhous, who it said was the head of a rocket unit.
After the ceasefire began, UN Middle East peace envoy Nickolay Mladenov said both the UN and Egypt had "worked hard to prevent the most dangerous escalation in and around Gaza from leading to war".
In a tweet,he called on both sides to "show maximum restraint and do their part to prevent bloodshed" .