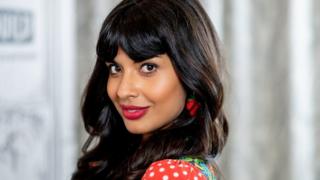 It came to mainstream attention through Madonna's 1990 hit Vogue and the accompanying video, as well as the documentary Paris Is Burning. It has long been seen as a movement of LGBT resistance.
Several people were critical of Jamil's involvement in a Show about the phenomenon, saying the cast should have connections to the ballroom scene.
In response, Jamil said : "I'm a long time fan of ballroom and just wanted to help this show get made to celebrate this beautiful community."
Celebrity performers Trace Lysette and Michelle Visage, who are not involved in the show, joined in the debate.
Visage Retweeted a comment saying there were "literally so many others who actually KNOW about ball who should [be] on". )
And Lysette, who has lived experience of ballroom culture, said it's a disappointment "when [people] with no connection to our culture gets the gig", but stressed that her comment was "not shade towards Jameela".
Follow us on Facebook , or on Twitter @ BBCNewsEnts If you have a story suggestion email [email protected]