Jasprit Bumrah
is in a different league at the moment.
After blowing away the West Indies in the first Test in Antigua last week with a return of 5 for 7 in the second innings, Bumrah went a step further in Jamaica on Saturday when he became only the third Indian bowler to take a Test hat-trick.
If it were predominantly outswingers (to the right-hand batsmen) that got him his wickets last week, it was his inswingers that caused havoc on Saturday. Given his open-chested action and the mechanics of swing bowling, the inswinger is the delivery that comes naturally to him and Bumrah used it to devastating effect to register his fifth five-wicket haul inTest cricket.
Having dismissed both Joel Campbell and Darren Bravo with sharp inswingers last week, he took the ball away from them on Saturday and successfully found the edge of the West Indian left-handers. He decided to operate with the inswinger against the right-handed duo of Shamarh Brooks and Roston Chase, trapping them plumb in front off successive deliveries.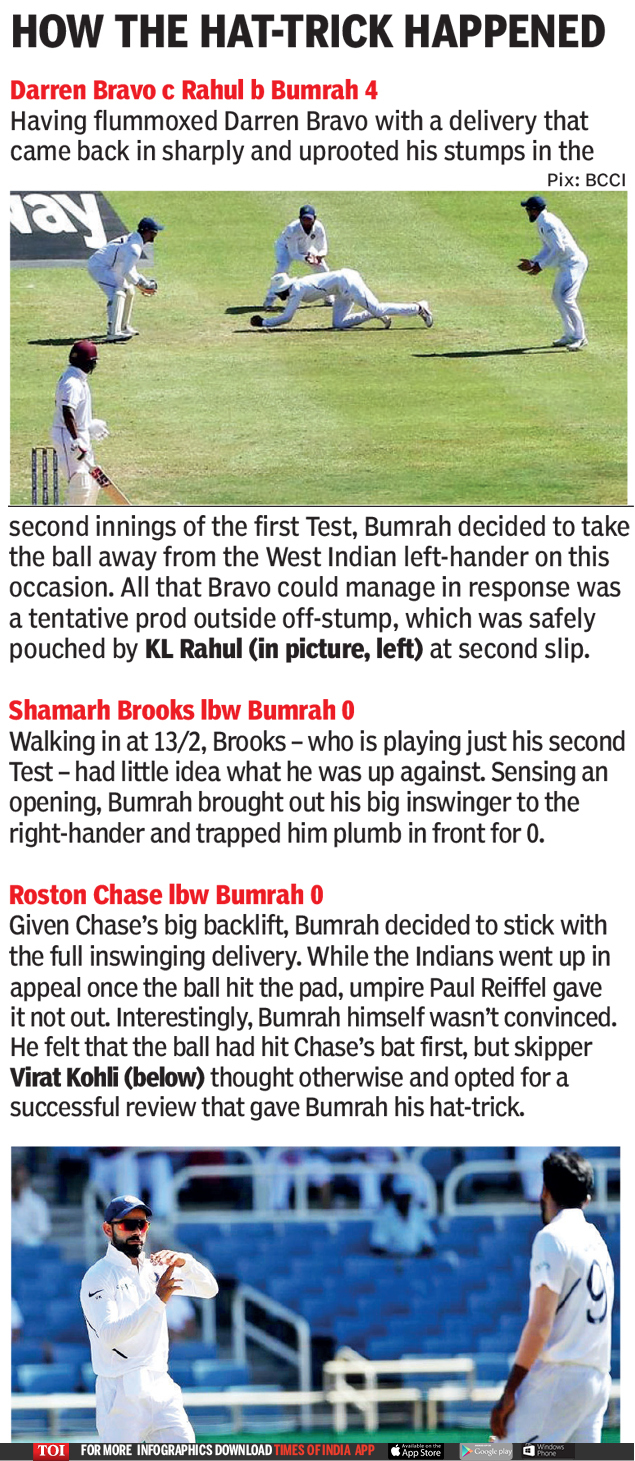 And just to show that he can unleash the outswinger whenever he so wishes, Bumrah had the stodgy Kraigg Brathwaite caught behind for his fifth wicket. In case one had forgotten, it was only around this time last year that Bumrah had developed the confidence to start using the away-going delivery at the highest level.
Talking about his game plan after the second day's play on aSabina Parksurface with a lot of assistance for the pacers, it was revealing how simple Bumrah's approach to bowling is.
"Sometimes when there is so much of help in the wicket, you can get greedy and look for wickets. You can try to be over aggressive. But at that time, you have to just try and bowl good balls and create pressure. That was the thing that was going on in my head, "Bumrah revealed in a chat with skipper (Virat Kohlion bcci.tv.
Bumrah is perhaps too modest to brag about his own craft. ButIrfan Pathan, who knows what it feels to take a Test hat-trick, succinctly explains the difficulty of what the 25 – year-old is doing at the present moment.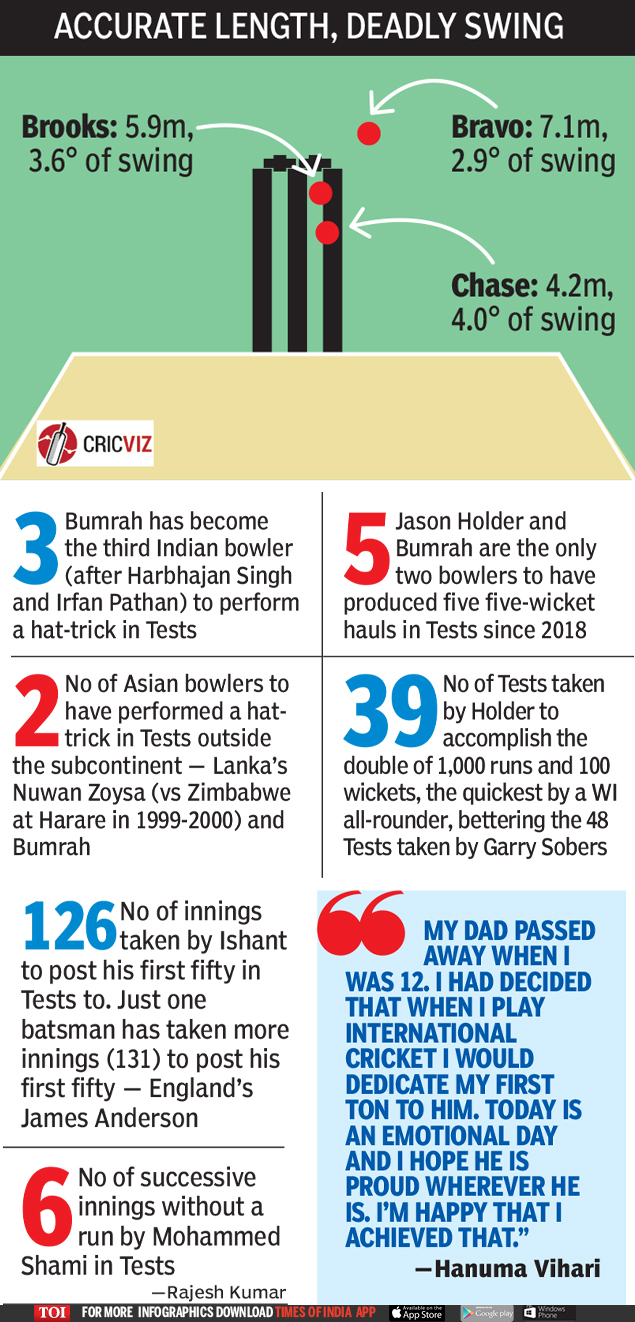 "For any bowler to swing the ball both ways, is the most difficult thing to do because everyone has an action that gives them one swing. To be able to swing the ball both ways, you need to have a really good sense of your action and great control over it. Bumrah has that right now. That is why he is consistently swinging the ball both ways, "Irfan, the second Indian to take a Test hat-trick afterHarbhajan Singhin 2001, told TOI on Sunday.
While the wrist position of a bowler is considered paramount when it comes to swing bowling, Irfan said that it is Bumrah's balance at the point of delivery that is enabling him to do what he wants.
"A lot of people talk about the wrist position. But if you don't have control over your action, you won't be able to control your wrists. The wrist is the end result. He is so balanced at the point of delivery that he is able to manoeuvre his wrists very easily, "the former left-arm swing bowler added.
Just as impressively perhaps, Bumrah doesn't seem to have a hint of arrogance about his dominance or importance to the team. For the wicket of Roston Chase that gave him his hat-trick for instance, it was him who had to be convinced by Kohli that they should go for the review rather than the other way round.
"Actually I didn't know. I was not very sure of the appeal. I thought it was bat so I didn't appeal so much, but it was a good review in the end. So, I think, I owe that hat-trick to the captain, "said Bumrah with a gentle smile.
Jasprit Bumrah is a once in a lifetime talent.

– Ian bishop (@irbishi)1567283668000
The Carribean islands have seen so many fast bowling greats dish out their fury, and this performance from… https://t.co/1fMzc6Ke6H

— Ashwin Ravichandran (@ashwinravi 99)1567301510000
Great first hundred by @Hanumavihari and an incredible hat-trick by @Jaspritbumrah 93 .. Indian cricket at its best! IND #INDvsWI

– Shikhar Dhawan (@SDhawan 25)1567309696000
Test hat-trick for Jasprit Bumrah, a very special bowler. India very lucky to have found him and what a champion h… https://t.co/ahj5CKlxIa— Mohammad Kaif (@MohammadKaif)1567282571000