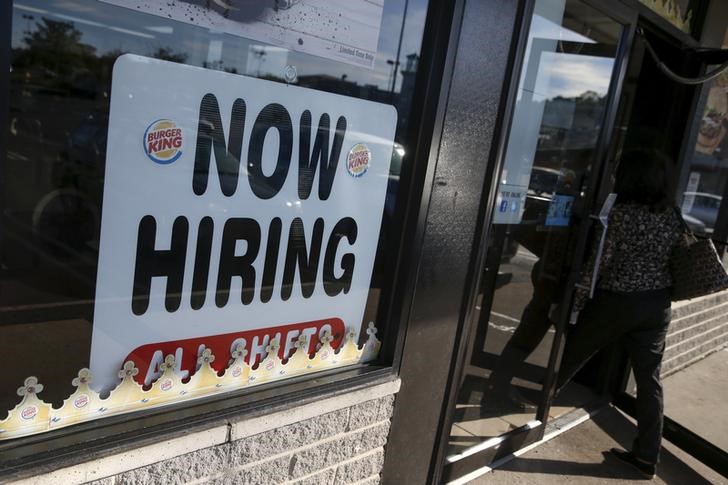 © Reuters.
By Kim Khan
Investing.com – The U.S. economy created fewer jobs than expected last month, while wage inflation rose, leaving the markets with mixed signals as far as what that means for the Federal Reserve.
rose 130, 000 in August, the Labor Department reported Friday. The market was expecting payrolls to have risen 160, 000, according to economists' forecasts compiled by Investing.com.
The unemployment rate remained steady at 3.7%, suggesting that the economy remains close to full employment.
Average hourly earnings rose 0.4% in the month and 3.2% from the year-ago period. That was a little stronger than expectations for a monthly increase of 0.3% and a 3.1% year-over-year rise.
In days past, such a report would leave the Fed with conflicting monetary policy indications.
Job growth was weaker than the consensus. And "more that 20% of job gains (were (due to temporary hiring for 2020 census, with downward revision to previous two months, "Grant Thornton Chief Economist Diane Swonk tweeted.
June payroll gains were revised down 15, 000 from to 178, 000 from 193, 000 and July was revised down 5, 000 to 159, 000 from 164, 000 – a total of 20, 000.
In addition, average monthly job growth for the first eight months of 2019 is 158, 00, down from 233, 000 in full -year 2018 and the 225, 000 in the year-ago period, Patrick Chovanec, chief strategist at Silvercrest Asset Management, tweeted.
That weakness could support some easing of rates.
Yet, with wage growth beating forecasts, inflation hawks would probably lean more to tightening.
But these aren't normal times, as far as the Fed is concerned.
And if anyone needed a reminder, President Donald Trump tweeted before the release of the numbers, again demanding rate cuts and criticizing Fed Chairman Jerome Powell. (This came a day after Trump tweeted about "great" jobs numbers from ADP (NASDAQ 🙂 and might have tipped those watching that the headline number would arrive below expectations.)
The Fed "were WAY too early to raise, and Way too late to cut" he tweeted, and added "Where did I find this guy Jerome?"
The markets seem pretty sure that nothing has really changed from yesterday and that Trump will get his cut at the FOMC meeting later this month.
Fed fund futures are pricing in a 92% chance of a quarter-point cut, just a tad lower than when the jobs report came out, according to Investing.com's.
The was flat in early trading.
And the yield edged up 0. 005 percentage point to 1. 570%