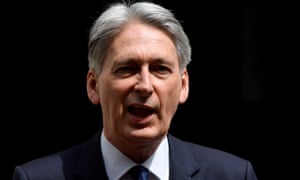 The former chancellor and rebel ex -Conservative Phillip Hammond has said Boris Johnson's general election plan is an attempt to fundamentally shift the party to the right.
He claimed the prime minister's intention to get voters to the polls in December would enable party "entryism" and was also an attempt by former Vote Leave staffers who now worked for the government to replace MPs with "hardliners".
Hammond, who is now an independent MP for Runnymede and Weybridge, also said parliament should not be blamed for the lack of progress onBrexitbecause it was Johnson who had wrecked the chance of getting his own deal passed by MPs.
In an interview with the BBC Radio 4 Today program, he said MPs had supported Johnson's deal but had simply asked for more time to scrutinise it. The government initially gave three days, and then until 6 November to ratify the bill. MPs voted against this time period last week, and afterJohnson again failed to get enough supporton Monday night to call an election, the prime minister said his (EU deal)was now off the tableand MPs would not get a chance to amend it.
Hammond said: "Parliament signalled very clearly it was willing to progress this bill. It is the government that has blocked it, and the government should now stop blocking Brexit, allow parliament to get on with the Brexit bill and deliver a Brexit by the end of November. "
He suggested Johnson wrecked his own Brexit proposals by not allowing MPs enough time to debate it. He suggested five days would have been better than the three Johnson proposed through a timetable motion that was voted down in the Commons.
He said Johnson could have accepted amendments, such as adding in a customs union, before calling for an election. He could then remove the changes he might not like if he won a majority.
"I fear that the real narrative here is that the Vote Leave activists – the cohort that has seized control in Downing Street and to some extent in the headquarters of the Conservative party – want this general election to change the shape of the Conservative party in parliament. To get rid of a cohort of MPs it regards as not robust enough on this issue and then replace them with hardliners. "
He added: "It really doesn't matter how many times my party kicks me, abuses me, reviles me, they are not going to stop me feeling like a Conservative. And I am not ready yet to give up fighting for the soul of the Conservative party. "
He referred to a tweet by the Leave.EU founder and funder, Arron Banks, which said "we have moved heaven and earth to shift the Conservative party to a leave party".
Hammond said: "This is a piece of blatant entryism to change what the Conservative party is about. "