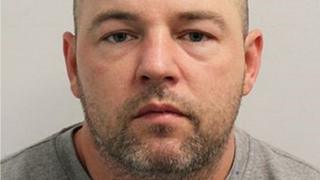 A man who carried out a string of sex attacks on 11 women and children across England over two weeks has been found guilty of 37 offences.
Joseph McCann's victims were aged between 11 and 71 and included three women who were abducted off the street at knifepoint and repeatedly raped.
The 34 – year-old also raped a mother in her home and then tied her to a bed as he molested her son and daughter.
McCann, of Harrow, was found guilty of offences including rape and kidnap.
The convicted burglar had been released from prison following a probation error in February before he embarked on a cocaine and vodka-fueled rampage.
McCann's "spree of sex attacks "started in Watford before moving to London, Greater Manchester and Cheshire over two weeks in April and May.
Hundreds of officers from five forces were deployed in the manhunt before he was finally caught while hiding in a tree.
Det Ch Insp Katherine Goodwin described him as "one of the most dangerous sex offenders the country has ever seen".
Jo Farrar, chief executive of HM Prisons and Probation Service, "apologized unreservedly" for "failings" which led to McCann being released early, adding that "strong and immediate action" had been taken against those involved with the case.
It can now be reported that four men and two women have been arrested on suspicion of assisting McCann while he was on the run from police following the initial attacks in London.
They have been released under investigation.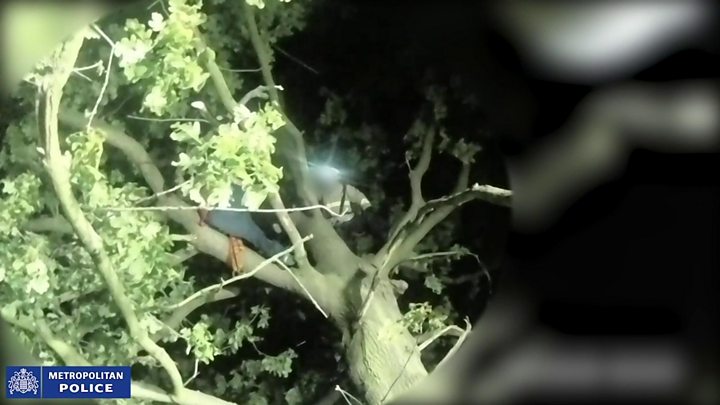 The Old Bailey heard how on 21 April, McCann grabbed a 21 – year-old woman at knifepoint off a street in Watford as she walked home from a nightclub.
She was bundled into a car and taken to a house where she was raped until being released later that morning in a "state of great distress" ,
A 25 – year-old woman was then abducted as she walked home in Walthamstow, east London, just after midnight on (April.
) She was driven off in a car then raped "many times" in a number of locations over 14 hours, including outside a school where McCann told her he "wanted to make her rape a child ", prosecutor John Price QC said.
While she was still being held prisoner, he snatched a 21 – year-old woman in Edgware, north London, as she walked along the street with her sister.
The court heard she "suffered a similar fate" to the 25 – year-old woman. The pair finally managed to escape when McCann drove to Watford where he had booked a hotel room.
They hit him over the head with a vodka bottle and fled to get help from nearby workmen.
The 12 jurors decided the fate of Joseph McCann without ever seeing him in the dock. Only once did he leave his prison cell for the Old Bailey – and that was to answer questions from the judge when the jury wasn't there.
McCann opted out of court proceedings from the moment he was charged in May, refusing to appear before chief magistrate Emma Arbuthnot.
Instead, in an unprecedented move, she traveled to Belmarsh Prison and convened the hearing there.
Before and during the trial, hours were wasted waiting for updates about McCann, with barristers and the judge in almost daily discussions about whether he would turn up and why he had not.
Letters were sent to his cell and prison officers were called to give evidence by videolink to confirm he had received them.
At one stage, McCann requested a four-week adjournment because he hadn't had enough sleep.
Even towards the end, with the prosecution case nearly completed, the jury was kept waiting while McCann weighed up whether he was going to go in the witness box.
There were concerns about his health – he didn't eat for days and threatened suicide – but the court's main preoccupation was ensuring he had a fair trial and understood the process even though he chose to be absent from it.
However, in the face of overwhelming evidence, it's hard to avoid the conclusion that McCann was playing the system because that was the only option left open to him.
On 5 May, McCann tricked his way into the home of a woman he met in a bar in Greater Manchester, where he tied her up and molested her 11 -year-old son and 17 -year-old daughter.
The girl managed to escape by jumping naked from a window and then alerted police.
Later that day he pounced on a 71 – year-old woman while she was loading shopping into her car outside a supermarket and abducted and raped her.
He also abducted and assaulted a 13 – year-old girl in the car before both got away.
McCann then abducted two 14 – year-old girls after threatening to "chop them up with a machete".
He was filmed at a garage buying condoms but was spotted by a police patrol who pursued him while the girls were inside the car.
After crashing into a Mercedes, the 34 – year-old fled on foot, then caught a taxi.
The car was stopped at a police road block but he fled across a field and was finally caught in the early hours of 6
After the verdicts were reached, the jury sent a note to the judge saying they wished to acknowledge the bravery of the Victims and the hard work of the police forces involved.
McCann is due to be sentenced on Monday.