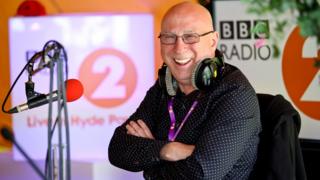 But, if you listen closely, those are just a few sounds you might be able to pick up on now the presenter is broadcasting from his Oxfordshire home. "I do live in dread of the binmen arriving or the Royal Air Force flying over in extremely noisy Chinooks as they do sometimes," Bruce laughs. "But so far it's been fine."
Bruce's mid-morning show on Radio 2 – which he has hosted continuously since 1992, following an earlier stint in the s – is particularly popular at the moment as more listeners turn to the radio while confined to their homes.
"At a time like this, people want to hear the news , but they don't want it all day, "Bruce says. "From my point of view, I'll pay attention to one news broadcast a day, and after that I don't really want to know too much unless it's a major development.
"So escapism is a big part of keeping people feeling right during this and I think we provide a certain amount of that, a chance to put the worries of the world to one side. "
the Today program's male hosts, the familiar home environment has at least given them the ideal opportunity to start growing a beard.
"R3 listeners send several hundred emails, tweets and texts to Breakfast every morning, a significant percentage coming from those taking refuge from today and news-based breakfast shows on 5 Live and LBC, " he said earlier this week. But there will be. some delay before the industry can ascertain how big the increase in listening has been.
Last month, industry body
Rajar told RadioToday it's reviewing ways it can continue monitoring listening habits
as collecting data from members of the public has been made trickier under lockdown.
Bruce recently told the MediaMasters podcast he only had one day off sick in the last years, although there was one occasion where listeners may have noticed he did sound like his usual self.
On April Fools Day , comedian Rob Brydon (whose impression of Bruce is uncanny) famously stood in for him –
with hilarious results. If, God forbid , Bruce became ill himself in the next few months and had to take a few days off work, is there any chance Brydon could cover for him again?
"Well yes, I'm sure he could," Bruce laughs, "but I don't think the BBC could afford him."
Ken Bruce presents on BBC Radio 2 from : until : BST every weekday morning.