Chestnut Hill, Mass. – Wielding an offense that somehow remained sheathed the first two weeks of the season, Kansas quarterback Carter Stanley and the Jayhawks 'skill players around him left a heavily favored Boston College staggered much of Friday night at Alumni Stadium.
The same KU players who struggled to score and sustain drives as recently as six days earlier breathed new life into the season with the help of a spread out offensive scheme that fueled a 48 – 24 road win and gained 567 yards in front of an announced crowd of 32, 848.
Despite a start that made the Jayhawks look like the same turnover-prone offense of weeks – and years – past, Stanley recovered from an interception on his second throw of the night and a KU punt on the second series of the nonconfernce finale to lead the Jayhawks on seven consecutive scoring drives.
Both Khalil Herbert (187 yards, one touchdown) and Pooka Williams (121 yards, one TD) easily topped 100 rushing yards, Stanley (20 – for – 27) threw for 238 more and receiver Andrew Parchment made sure BC kept guessing on defense, putting up 100 receiving yards and two touchdowns on eight receptions.
With a harvest moon shining on Friday the 13 th, the game turned into a horrific scene for the Eagles (2 -1) by the opening minutes of the second half.
Herbert seemed to have open freeways worth of room every time he touched the ball. And with BC dazed the Jayhawks (2-1) skillfully added to their halftime lead.
Photo GalleryJayhawks earn road victory over Eagles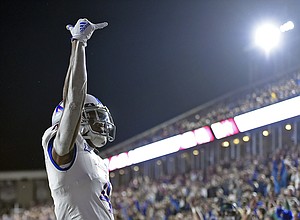 Photo gallery: Jayhawks earn road victory over Eagles
Already enjoying a touchdown's worth of breathing room in the second half without Williams dosing out any of his typical spectacular plays, the star sophomore running back from Louisiana pushed the Jayhawks' comfort level to 14 points on a 12 – yard run with 5: 25 left in the third quarter.
The KU defense made sure the Eagles couldn't build any confidence or momentum afterward, too, forcing BC to its second three and out in a row at a crucial juncture of the game.
Junior kicker Liam Jones pushed KU's lead to seven just a few minutes into the third quarter with a 24 – yard field goal that capped a 12 – play drive. Holder Donovan Gagen made it possible by somehow recovering what looked to be a botched hold and getting it in place just in time for Jones to kick it through the uprights, making it a 31 – 24 KU advantage.
The first half couldn't have ended much better for the Jayhawks, who only had 45 seconds and a prayer to respond to a Boston College touchdown on a trick play that QB Anthony Brown caught for a go-ahead touchdown .
On KU's first play of the drive, Herbert shot down the west sideline as BC defensive backs on that half of the field paid attention to Parchment. Herbert nearly scored by himself but settled for an 82 -yard gain that put KU three yards from the goal line.
Two plays later, Stanley slung a quick strike to Parchment in the end zone, allowing KU to head to halftime up 28 – 24. The visitors averaged 9.7 yards per play in the first half.
Kansas took its first lead of the game just a few minutes earlier, with Stanley in a groove and hitting just about every receiver in his sights, including back-to-back 21 – yard connections with Kwamie Lassiter II to open the series. The fifth-year senior QB completed an 81 -yard TD drive by dropping a four-yard pass in Parchment's hands, over and past two BC defenders.
Benefiting from a 37 – yard kickoff return from redshirt freshman speedster Jamahl Horne in the final seconds of the first quarter, KU proved this one would be more interesting than anticipated with senior fullback Hudson Hall plunging in for a one-yard TD after Parchment picked up 37 yards on a catch to set it up.
After a seemingly disastrous start and playing in a 10 – 0 hole midway through the first quarter, the KU offense responded with what at the time looked out of character and was likely its best sequence of the young season to date.
Stanley and Williams took turns gashing the BC defense and KU traveled 78 yards in eight plays when such a scenario seemed implausible given the offense's recent struggles.
But after Stanley's early interception he rattled off 11 completions in a row, and the Jayhawks who lost at home to Coastal Carolina seemed to no longer exist as the offense proved it could adjust and evolve.
SCORING SUMMARY
FIRST QUARTER
12: 41 – AJ Dillon 2 run. Aaron Boumerhi kick. Seven-play drive for 75 yards , in 2: 19. (BC 7, KU 0.)
11: 09 – Boumerhi 40 field goal. Four-play drive for 4 yards, in 0: 43. (BC 10, KU 0.)
3: 27 – Jack Luavasa 19 pass from Carter Stanley. Liam Jones kick. Eight-play drive for 78 yards, in 3: 54. (BC 10, KU 7.)
0: 17 – Korab Idrizi 20 pass from Anthony Brown. Boumerhi kick. Ten-play drive for 73 yards, in 3: 05. (BC 17, KU 7.)
SECOND QUARTER
14: 19 – Hudson Hall 1 run. Jones kick. Three-play drive for 48 yards, in 0: 50. (BC 17, KU 14.)
3: 41 – Andrew Parchment 4 pass from Stanley. Jones kick. Eleven-play drive for 81 yards in 5 : 15. (KU 21, BC 17.)
0: 45 – Brown 12 pass from CJ Lewis. Boumerhi kick. Eight-play drive for (yards, in 2: 48. (BC 24, KU 21.)
0: 05 – Parchment 3 pass from Stanley. Jones kick. Four-play drive for 85 yards, in 0: 35. (KU 28, BC 24.)
THIRD QUARTER
10: 24 – Jones 24 field goal. Twelve-play drive for 69 yards, in 4: 32. (KU 31, BC 24.)
5: 25 – Pooka Williams 12 run. Jones kick. Eight-play drive for 87 yards, in 3: 12. (KU 38, BC 24.)
0: 35 – Jones 30 field goal. Nine-play drive for 60 yards, in 3: 57. (KU 41, BC 24.)
FOURTH QUARTER
5: 44 – Khalil Herbert 6 run. Jones kick. One-play drive for 6 yards in 0: 06. (KU 48, BC 24.)