This is the final installment of a three part series in which we dive into modern application authentication solutions – the hard way.
Part : The Hard Way, Continued
Part : The Hard Way: Return Of The Specification
We are continuing our quest to implement a client that will perform the OpenID Connect Authorization Code Flow . It is one of the two flows we need to know to cover most of our application authentication needs.
Why would we want to do this? Make sure to read Part One
for the motivation behind this endeavor.
Here are the steps taken from the specification that we are going to facilitate to perform an end-to-end Authorization Code Flow:
1. Client prepares an Authentication Request containing the desired request parameters. 2. Client sends the request to the Authorization Server. 3. Authorization Server Authenticates the End-User. 4. Authorization Server obtains End-User Consent / Authorization. 5. Authorization Server sends the End-User back to the Client with an Authorization Code. 6. Client requests a response using the Authorization Code at the Token Endpoint. 7. Client receives a response that contains an ID Token and Access Token in the response body. 8. Client validates the ID token and retrieves the End-User's Subject Identifier.
In Part Two
we powered through implementing steps 2 through 7, and discovered that specs are indeed written by engineers. In this final post we will breeze through the eighth and final step.
8. Client validates the ID token and retrieves the End-User's Subject Identifier
Specification Link
We are now on the home stretch – all we need to do is to validate the payload we have received, and then we will have successfully completed the Authorization Code Flow!
3.1.3.5. Token Response Validation … Follow the validation rules in RFC 7517, especially those in Sections 5.1 and . 90. …
So this is an interesting piece of advice. The first part of the statement is a cover-all for the OAuth 2.0 spec which isn't particularly useful. If we begin at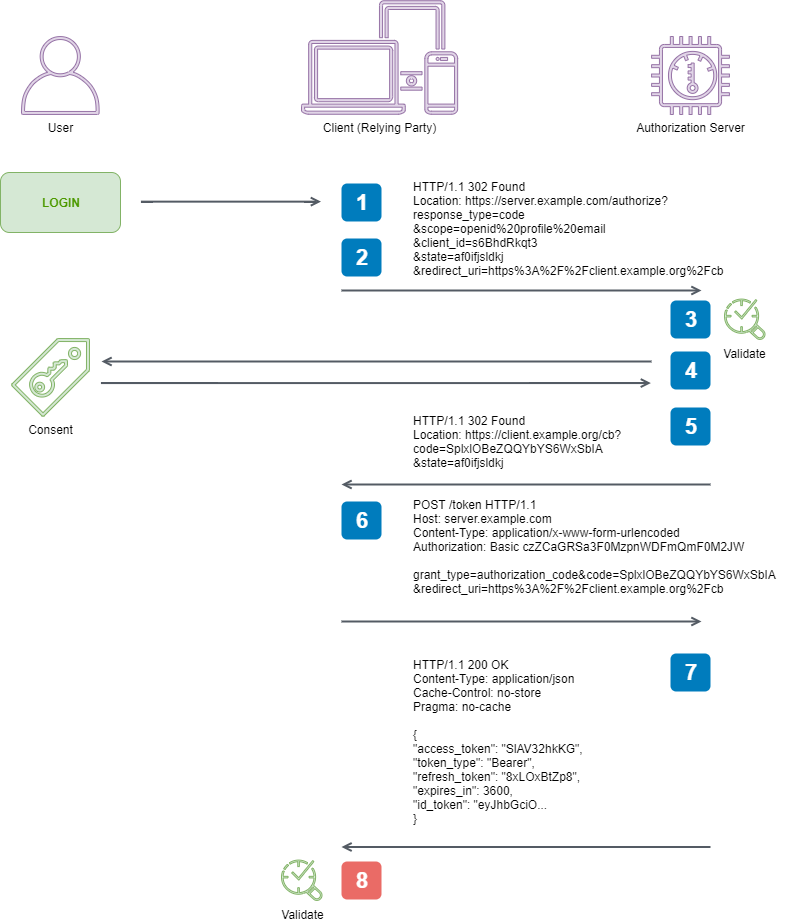 4.1.4. Access Token Response
in RFC , we can see it is mostly ensuring we only accept specified values ​​from our Authorization Server, and ignore anything else – this covers (Section 5.1) as well.
The interesting part comes in advising us to follow Section – which we covered earlier. It was our CSRF protection mechanism for the initial redirection and callback, ensuring unwanted types couldn't randomly call our redirect endpoint. Why would we need to implement CSRF protection on a single HTTPS call to the token endpoint? Well we don't need to – it doesn't make any sense to, as the communication isn't succeptible to CSRF. Published specifications can also have bugs .
Our deserialization process will ensure 3.1.3.5 is adhered to, so let's move on to validating our tokens. I'll only address validation items that apply to us within 3.1.3.7 . ID Token Validation – any numbered items I do not mention address less common, more sophisticated scenarios, beyond the scope of this post.
3.1.3.7. ID Token Validation Clients MUST validate the ID Token in the Token Response in the following manner: … 2. The Issuer Identifier for the OpenID Provider (which is typically obtained during Discovery) MUST exactly match the value of the iss (issuer) Claim. …
Term New Term Alert 🚨 What is Discovery? Once again, let's Ctrl f our way to success. Way up in 1. Introduction
in the Open ID spec, the following information is offered:
This specification assumes that the Relying Party has already obtained configuration information about the OpenID Provider, including its Authorization Endpoint and Token Endpoint locations. This information is normally obtained via Discovery, as described in OpenID Connect Discovery 1.0.
We have been working through the OpenID Core specification, which details the main functionality OpenID Connect layers on top of the OAuth 2.0 spec. However OpenID also defines a number of other specifications
dealing with ancillary concerns – one of them being (Discovery) .
4. Obtaining OpenID Provider Configuration Information within the Discovery specification tells us how to obtain provider information – by issuing a (GET) request to /. well-known / openid-configuration - commonly referred to as the well known configuration endpoint .
The spec provides us with a schema for the expected response. At this point we are going to start dealing with lots of json formatted data. To make this job easier, I'll be using QuickType , an awesome tool for scaffolding C # classes from json schemas, which comes with the added benefit of providing both neat type inference and serialization helpers so that you can just 'plug and play' what it supplies.