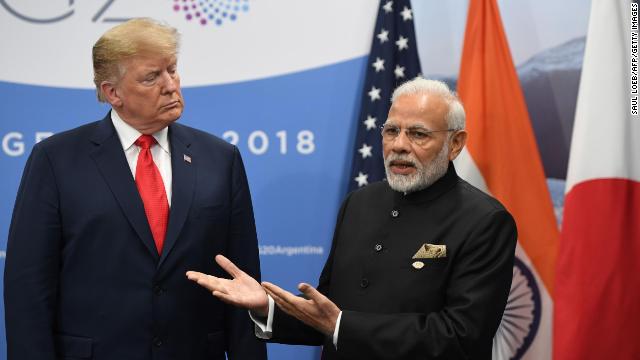 President Donald Trump and India's Prime Minister Narendra Modi will share a stage in my hometown of Houston, Texas, at an event named"Howdy, Modi"today. This is Modi's first trip to the US since his reelection earlier this year, and it comes at a time when he and Trump are looking to forge stronger ties and trade relations between the US and India.
While tens of thousands of Indian Americans are expected to welcome the prime minister inside the NRG stadium alongside local officials, members of Congress, and other politicians,I'll be outside protestingwith many others as we bid adios to Modi.
It's shameful to see the prime minister being enthusiastically welcomed in the city I know and love under the guise of multiculturalism and inclusion – especially when Modi has stokedHindu nationalist sentimentssince he was first elected in 2014.
I'm a third-generation Indian American raised in Houston's Indian Christian community. My ammachis, or my grandmothers, immigrated to Texas from Kerala, India, in search of nursing jobs in the 1970 s and established their lives in this city alongside other Indian immigrant families.
The South Asian community in Texas is a multi-religious and multi-racial community. We are queer, trans, and gender non-conforming. We are undocumented and working-class people. We trace our families back to different countries in South Asia, as well as to Africa and the Caribbean. And we are part of the reason that Houston is known to be one of themost diverse cities in America.
Instead of embracing Modi, we should be holding him accountable for the horrific human rights abuses happening all across India, and especially in Kashmir right now.
Here are just a few of the problems:
All of this is consistent with Modi's far-right Hindu nationalist agenda, which seeks to prioritize the rights of Hindus and diminish the rights of others. Modi and his ruling party have incited hate, violence and discrimination against religious minorities and marginalized people across India, including Dalits, Muslims, Sikhs, and Christians.