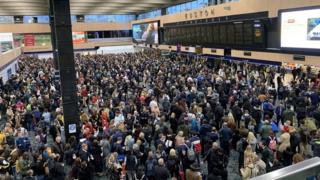 Commuters traveling from a major London railway station are facing severe disruption after a boy was injured falling from a bridge.
Lines into London Euston were shut as emergency services helped the teenager near Wembley Central station.
British Transport Police said they were called at 16: 25 BST and a male had been "taken to a place of safety".
Network Rail warned problems would last until the end of service as trains were out of place.
Lines have reopened but Network Rail warned the station concourse remained "very busy" and " at times crowd management will need to be put in place ".
Power was cut on some trains with one commuter describing how they were stuck on a train.
London Northwestern Railway, London Overground, Southern and Virgin Trains have all been affected:
Virgin Trains has arranged ticket acceptance with other operators and a full list of them can be foundhere
Road transport will replace London Northwestern Railway trains between some stations
London Overground services between London Euston and Watford Junction are being delayed by up to 30 minutes
Southern services, which operate between East Croydon and Milton Keynes Central, have been unable to run
National Rail said anybody unable to travel on Friday night could use trains on Saturday for no extra cost.