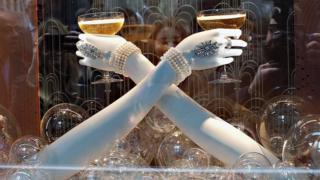 Louis Vuitton (LVMH), the world's biggest luxury goods firm, has confirmed it held "preliminary" talks about buying US jeweler Tiffany.
It followed weekend reports that LVMH had made a $ 14 .5bn (£ 11 .3bn) offer for the 182 – year-old company.
LVMH, owned by France's richest man, Bernard Arnault, owns a string of luxury brands, including Christian Dior, Dom Pérignon and Bulgari.
Jewelery has been one of the fastest growth spots in the luxury sector.
In a two-sentence statementon Monday, LVMH said it "confirms that it has held preliminary discussions regarding a possible transaction with Tiffany," adding that there is no certainty of a deal. Tiffany, listed on the New York Stock Exchange, has yet to comment.
Reports said cash-rich LVMH, which also owns Givenchy, Kenzo, Tag Heuer, Moet & Chandon, as well as Louis Vuitton handbags, made a preliminary offer for Tiffany earlier this month. A takeover would be LVMH's biggest deal since buying the Bulgari brand in 2011 for $ 5.2bn.
"LVMH's attempt to put a $ 14 .5bn ring on Tiffany, having already added Bulgari a couple of years ago is likely to take the fight in this sector to its closest rival Richemont, who own Cartier, and would help LVMH in gaining better access to US markets, "said Michael Hewson, chief market analyst at CMC Markets UK.
As part of its push for a bigger share of the US market, LVMH has opened a factory in south Texas, which was officially inaugurated this month in ceremony attended by Mr Arnault and US President Donald Trump and his daughter Ivanka.
Tiffany's flagship New York store is next to Trump Tower on 5th Avenue.
Global demand for LVMH's products have held up well in recent years, but the same cannot be said for Tiffany, whichhas seen worldwide sales fall.
Like several luxury firms, anal ysts say Tiffany may have been caught out by the US-China trade dispute and rise in tariffs. It has also been hit by lower spending in its retail outlets by Chinese tourists.
LVMH has 75 brands,, 000 employees and a network of more than 4, 590 stores. Tiffany employs more than 14, 000 people and operates about 300 stores.
News of LVMH's offer sent Tiffany's shares surging 22 .8% in pre-market trading ahead of the official Wall Street open later. A $ 14. 5bn offer is worth about $ 120 a share, but analysts said LVMH could afford to go higher, and Credit Suisse estimated that Tiffany was worth about $ 140 a share.
LVMH rival Kering has been looking to expand in the jewelery sector too, and has launched high-end jewelery lines for its fashion brand Gucci.
Switzerland's Richemont, meanwhile, a sector leader with labels such as Cartier, has also been adding to its portfolio, and recently acquired Italy's Buccellati.
But, said analysts at Jefferies, "Tiffany is potentially the biggest prey and the only US global luxury brand ".