French conglomerate has held preliminary discussions with US jeweler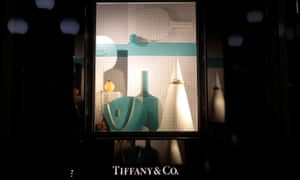 The French luxury group LVMH has confirmed it has made a takeover approach for Tiffany & Co, reportedly valuing the famous US jeweler at $ 14 .5bn (£ 11 .3bn).
The owner ofLouis Vuittonsaid it had held preliminary discussions with Tiffany, known for its diamond engagement rings and robin's egg blue gift boxes, but there was no certainty a deal would be agreed.
If a deal does go ahead, it would be LVMH's biggest acquisition to date, giving the French group its first major non-fashion American brand.
LVMH is the world's largest luxury goods group, with brands including Christian Dior haute couture, Bulgari jewelery, Hublot watches and Veuve Clicquot champagne. It is owned by Europe's richest man, Bernard Arnault.
Tiffany, which featured in the 1961 film Breakfast at Tiffany's starring Audrey Hepburn, was founded in New York in 1837 by 25 – year-old Charles Lewis Tiffany and his friend John B Young, who openeda stationery and "fancy goods" emporiumon Broadway.
Analysts at Jefferies said: "If a bid at this level, or indeed higher, was confirmed, it would be the largest M&A [mergers & acquisition] transaction to date for LVMH but one it could comfortably afford."
They noted that in 2011, LVMH approached and acquired Bulgari in a similar manner, over the weekend. Alessandro Bogliolo, the chief executive of Tiffany, who is trying to reinvigorate the brand, was chief operating officer of Bulgari at the time of the bid before exiting the following year.
The deal would bolster LVMH's hard luxury division, which includes Bulgari jewelery, Hublot and Tag Heuer watches. This will allow it to compete better with Swiss rival Richemont, which focuses on watches and jewelery.