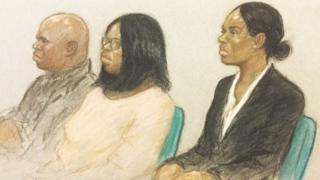 A senior police officer convicted of possessing a child abuse video on her phone has been told she faces "immense" career consequences.
A court heard Novlett Robyn Williams failed to report her sister for sending the "disturbing" clip last year.
While jurors at the Old Bailey accepted Williams did not view the material, they rejected her claim she was unaware of its presence on her phone.
She was ordered to carry out
hours' community service.
Williams had denied the charge, saying she"zoned out"when she received the video.
The jury was told she was one of 17 people to receive the 54 – second clip via WhatsApp, and prosecutors had argued there was no way she could have missed its arrival in h er inbox.
They said a response sent to her older sister Jennifer Hodge, saying "please call", was evidence that she wanted to discuss the content.
Judge Richard Marks QC, sentencing, told the Old Bailey her "grave error of judgement" was likely to have "immense" career consequences.
The court heard Williams, who was commended for her work after the Grenfell Tower disaster, had an exemplary disciplinary record, was highly regarded for her work and was awarded the Queen's Policing Medal for distinguished service in 2003 .
Judge Marks told her it was "completely tragic you found yourself in the position you now do" considering her "stellar career in the police force over 30 years " .
She was cleared of a charge of corrupt or improper exercise of police powers in failing to report the distribution of an image.
As the prosecuting barrister, Richard Wright QC, noted, this is a "sad" case for all those involved, especially for Robyn Williams who could well lose the job she cherishes.
She was the only one to be prosecuted of the (people who received the child abuse video.)
Two individuals reported it, but no action was taken against the other 14, raising concerns among her supporters that she's been unfairly targeted.
Did it have to end up in a trial at the Old Bailey? Or could the Superintendent have been dealt with through internal misconduct procedures, given her 36 years' distinguished service?
There is also a wider question for all of us about our legal responsibilities when we're sent material on social media that we haven't asked for.
This case has demonstrated the risks of not reporting and deleting footage that contains illegal content.
Williams' sister Jennifer Hodge, 56, of Brent, was ordered to carry out 100 hours of community service having been found guilty of distributing an indecent image of a child.
The social worker had denied sending the video, which she received from her partner and allegedly depicted a young girl performing a sex act on a man.
Her barrister Andrea Brown also told the court the conviction had "destroyed her relationship" with her police officer sister, who is her only immediate family member.
Hodge's partner Dido Massivi, 61, was sentenced to 18 months imprisonment suspended for two years as well as 200 hours of community service.
The bus driver had denied two counts of distributing indecent photos and one count of possessing an extreme pornographic image portraying a person having sex with a horse.
Prosecutors said there was no suggestion the defendants derived any sexual gratification from the images but all three will be placed on the sex offenders' register – Hodge and Williams for five years, and Massivi for 10.
Both Hodge and Massivi were also sacked from their jobs following their arrest, the court heard.
Scotland Yard said Williams remains on restricted duties but that would be "reviewed now criminal matters are complete. "