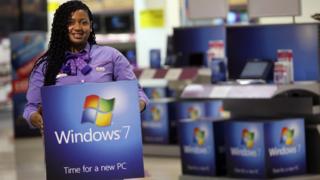 Cyber-security experts are urging Windows 7 users to upgrade their operating system.
Microsoft is going to stop supporting Windows 7 from Tuesday so that it can focus on "newer technologies."
As a result, Windows 7 users will no longer receive the all-important security updates and patches that keep their machines safe.
One in four Windows users is running Windows 7,according to statistics website StatCounter.
What does this all mean?
It means that Microsoft is ending the cat-and-mouse game with hackers seeking to exploit software bugs in the Windows 7 operating system.
If perpetrators find a flaw in Windows 7, Microsoft will not fix it.
Without continued software and security updates, Windows 7 machines are more likely to be infected with viruses and malware,Microsoft wrote on its website.
"Running an unpatched machine means that the flaws in the code will never be fixed and as exploits for those flaws become known and widespread, your chances of being successfully attacked grow very rapidly, "said Rik Ferguson, vice-president of security research at Trend Micro.
David Emm, a senior security researcher at Kaspersky Lab, added that people need to move to a supported operating system as soon as possible.
What are the risks?
Hackers use malware to invade, damage or disable computers.
It can be used to steal personal and financial data, spy on other users without them knowing, and to hold companies to ransom until a payment is made.
In May 2019, the NHS was hit by theWannaCry ransomware attack.
A government reportin 2019 that the attack could have been avoided if NHS Trusts had updated their computers and applied the necessary security patches.
Hackers exploited weaknesses in unpatched versions of Windows 7, as well as to a lesser extent the earlier Windows XP, which Microsoft had stopped supporting.