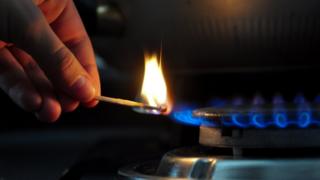 Energy firm Npower is cut to up to 4, 500 UK jobs as part of a plan to make it more profitable.
Three call centers are under threat of closure, at Houghton le Spring, near Sunderland, an office in Hull and one in Worcester.
Unions called the action a "cruel blow" for the company's workers in the run-up to Christmas.
Under the restructuring, Npower's owner E.On will merge computer systems to save money.
"The UK market is currently particularly challenging , "said Johannes Teyssen, E.On chief executive.
" We've emphasized repeatedly that we'll take all necessary action to return our business there to consistent profitability. "
The company said reports from unions of 4, 500 job cuts were of the correct "order of magnitude" , but that the final figure would not be announced while it is still consulting with unions.
There are around 2, 500 jobs at Houghton le Spring, and more than 600 at each of
Npower's other sites in the UK are at Leeds, Birmingham, Swindon, Solihull and Oldbury.
The restructuring plan – which is set to cost Npower £ 500 m – would see small businesses and consumers served by the same computer systems and customer service teams. Large industrial customers would still be served separately.
Size matters for energy companies
This is a Goldilocks moment in the energy sector. Businesses do not want to be too big or too small to be just right.
The biggest suppliers have pointed to the pressures they face on their domestic business from the energy price cap, although this has been to the benefit of millions of consumers. Legacy IT systems also cost a lot.
Meanwhile, 16 small energy companies have collapsed since the beginning of last year. Many had grown too quickly, leading to terrible customer service. Their size also meant they struggled to cope with price changes on the wholesale markets.
So, that leaves those in the middle, some of which have been successfully picking up domestic customers through switches and serving them through more nimble IT systems.
Analysts Cornwall Insight say challenger brands now hold a 30% share of the household energy market, up from 18% two years ago. In four years, it says there could be a 50 / 50 split between the big six and the challengers. Npower's announcement adds some weight to that prediction.
Germany-based E.On said profit for the first nine months of its financial year fell 27% to € 2.3 bn (£ 2bn).
The firm said its division serving households would effectively be merged into E.On's. The government-imposed price cap had eroded profits, as it had at competitors, it said.
Its division serving other businesses "is a profitable very good business, "it said, and would keep the Npower brand name.
'Cruel blow'
The GMB union said the announcement would be a "body blow" to Npower workers.
"Government has to urgently wake up to the impact that the price cap is having on good and reasonably well-paid jobs in UK energy companies.
"Npower is a poorly managed company with significant losses in the UK but it's always the workers that face the brunt of poor management coupled with regulation that sends work overseas whilst sacking energy workers in the UK. "
Unison union general secretary Dave Prentis said the news was a "cruel blow" for workers.
"They've been worried about their jobs for months . Now their worst fears have been realized, less than a month before Christmas.
"The UK energy market is in real danger of collapse. If nothing is done, there could soon be other casualties, "he said, urging the government to take ownership of the retail businesses of the six largest providers.
) Npower, one of the big six energy providers in the UK, announced plans in January to cut 900 jobs in another attempt to save costs.
The firm blamed " an incredibly tough "retail energy market for the decision and the government new price cap, which began at the start of January.
---
If you are an employee for Npower have you been given news about your job? Tell us by emailing[email protected]
Please include a contact number if you are willing to speak to a BBC journalist. You can also contact us in the following ways: