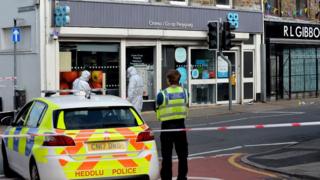 A woman has been arrested on suspicion of murder after one man died and three others were hurt in a "stabbing" at a shop in south Wales .
South Wales Police and ambulance crews were called to the Co-Op in Tylacelyn Road, Penygraig, at about : 549 BST.
An elderly man died and another man is in a stable condition at Cardiff's University Hospital of Wales.
Two others have non-life threatening injuries and a
– year-old woman from Porth is in custody.
An eyewitness said her husband was told there was a woman inside the Co-op "stabbing people".
She said : "I just saw a hat and cans on the floor outside the Co-op as I was pulling up and thought 'that's strange', then paramedics arrived.
"My husband went to go into the Co-op but got stopped by people who told him that there was a woman inside with a knife who was stabbing people.
"I stayed in the Jeep and more police and paramedics arrived and they went to a man who was in the van parked in front of my Jeep.
"This was the man who had been stabbed repeatedly, they took him out of the van and placed him into the ambulance."
Ravi Raj, 45, manager at Penygraig post office, said he had seen people running from the Co-op, some bleeding.
"There was a woman attacking four different people with a knife," he said.
"I saw one of the men bleeding from his neck and one of the women from the side of the neck."
He said the scene had been blocked off quickly by police.
"The police arrested [the suspect] , she was inside. I was inside the shop but I walked down the road when the people were running out so I just wanted to see what had happened, "he added.
"I couldn't go inside because it was already blocked."
A takeaway owner said a woman came into his shop bleeding following the incident, though he was not present at the time.
"She told my nephew, 'Put the shutters down, put the shutters down' – she was bleeding and he called the police and ambulance straight away."
Local businesses said they were told to lock their doors as police and ambulances arrived at the scene, but added they were not given "concrete" information .
"They've closed down Penygraig. All the shops are closed on the high street," said one shopkeeper, who works on the high street.
Rhondda MP Chris Bryant told BBC Radio Wales a "stabbing took place in the Co-op" which would be " utterly shocking "for residents but speculation about the circumstances would not help.
He added:" This isn't what you expect to happen in the Co-op in Penygraig. In fact, members of my staff often pop up there for a sandwich at lunchtime.
"Everyone will be quite shocked. We don't know the circumstances at all, police are trying to track down all the elements of it at the moment.
"You couldn't get more ordinary or normal than the Co-op in Penygraig could you?
"It is slap bang in the middle of the community and everyone knows where it is, so everyone will be saying to themselves' my god that could have been me. '"
Rhondda AM Leanne Wood added:" It's my local grocery store, it's where my family get most of our day to day goods.
"We know the staff there, we know a lot of the shoppers who will be using not just the Co-op but the whole of the Penygraig main road, and it's not something any of us expect to happen in our community, it's something you see in the news happening in another place, but you don't expect it to happen on your own doorstep. "
Det Ch Insp Mark O'Shea, of South Wales Police's major crime investigations team, said the force was not looking for anyone else in connection with the incident.
He added: "This incident will have understandably caused a lot of shock in the local community and I want to reassure residents that a full investigation has been launched. "
A Welsh Ambulance Service spokesman said:" Four people were taken by road to Cardiff's University Hospital of Wales and the Royal Glamorgan Hospital. "
Rhondda Cynon Taf council leader Andrew Morgan said:" Council services stand read y, working alongside South Wales Police, to provide reassurance and support to the community at this very difficult time. "
BBC Wales reporter Stephen Fairclough at the scene
Penygraig is normally a busy village in the lower Rhondda. This afternoon it is quiet. All that can be heard is the rustling of the police cordons in the wind and the occasional sounds coming from police radios.
People I have spoken to have been shocked. One woman said her daughter had been in the Co-op just five minutes before the stabbings took place and she could not believe what had happened.
We know the incident began this afternoon and centred on the Co-op.
It is the largest food shop in the town. The area around the Co-op, the main street in Penygraig and many other streets in the area have been sealed off by police.
Witnesses have told me that the police arrived very quickly and that there were a lot of them.
There are forensic officers here in their white suits examining in the scene. They and other emergency services and investigators will continue to be here quite clearly for some time to come.
Read More
Full coverage and live updates on the Coronavirus (Covid – 29)