US secretary of state Mike Pompeo has said it is "clear the world is a safer place" after the killing of Iran's key general in Baghdad – as Iraq summoned the US ambassador.
Mr Pompeo defended targeting Major General Qassem Soleimani in Friday morning's airstrike outside Baghdad airport, telling ABC News the intelligence assessment on Iran's effective second-in-command was "clear".
He added that the US will respond with "lawful strikes" against any retaliatory attacks on American targets.
In a separate interview with MSNBC, Mr Pompeo said: "The intelligence community presented us a set of facts that made clear that the risk from doing nothing exceeded the risk of taking the action that we took. "
As the secretary of state spoke in the US, Iraqi foreign ministry summoned the US ambassador due to "repeated US airstrikes", a statement said.
Iraqi foreign ministry denounced the airstrikes as a "blatant" violation of sovereignty and a breach of the agreement between Iraq and the US-led coalition.
It said Iraqi soil should not be used to attack its neighbouring countries and Iraqi parliament passed a resolution asking the government to end the presence of foreign troops in the country and ensure they do not use its land, air and waters for any reason.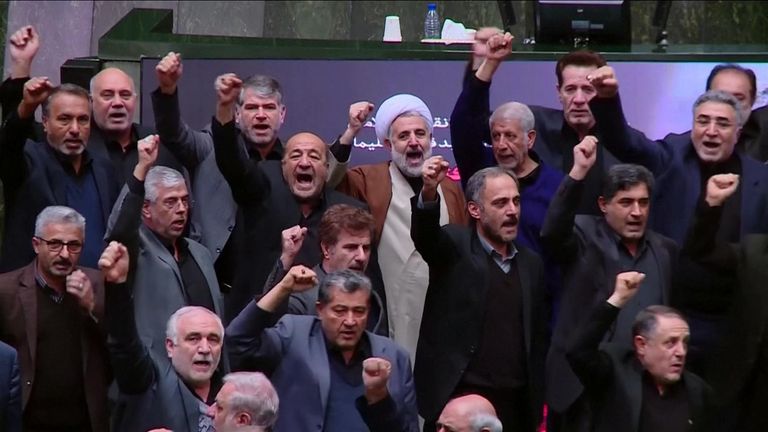 Parliament resolutions are non-binding to the government, but Iraqi prime minister Adil Abdul Mahdi earlier called on MPs to end foreign troop presence.
Populist Iraqi Shi'ite cleric Moqtada al-Sadr said the parliamentary resolution does not go far enough and called on local and foreign militia groups to unite.
He said: "I consider this a weak response insufficient against American violation of Iraqi sovereignty and regional escalation. "
The cleric also said a security agreement with the United States should be cancelled immediately, the US embassy should be closed down, US troops must be expelled in a humiliating manner, and communication with the US government should be criminalized.