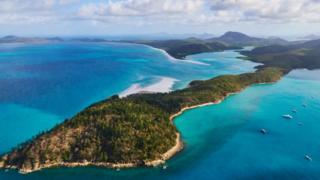 Two British tourists have been seriously injured in a shark attack at a popular holiday spot in Australia.
The men, aged 22 and 28, were swimming in Queensland's Whitsunday Islands when they were attacked on Tuesday.
The shark had severed the older man's foot and left the other tourist with leg wounds, paramedics said.
They were taken by a tour boat to shore and initially treated there, before being flown to hospital in a stable condition.
The Whitsunday Islands – near the Great Barrier Reef – have seen other shark attacks in recent times.
Authorities said both men were from England and had been snorkelling on a day cruise.
"One of the male patients was attacked first and the shark is believed to have returned and come back and attacked the second patient , "a Queensland Ambulance Service spokeswoman said.
The attack occurred at Hook Passage, about 10 km (6 miles) from where an Australian man was fatally bitten by a shark last November.
The islands also saw two other attackswithin 24 hours in September last year. Both victims survived, although one – a 12 – year-old girl – later had a leg amputated.
In response to those incidents, authorities culled six sharks in the area and controversially installed drum lines – baited hooks which are suspended underwater. The drum lines were later removed due to their impact on other marine life.
You might also be interested in:

Media playback is unsupported on your device

Media caption

Drones used to spot sharks on Australian Beaches
At the time,experts said there was insufficient evidenceto explain why the attacks had occurred in the same area. Sharks can be drawn by fishing activity or dirty water, and tend to be more active during dusk.
Unprovoked shark attacks have injured 10 people in Australia this year, according to the Australian Shark Attack File.