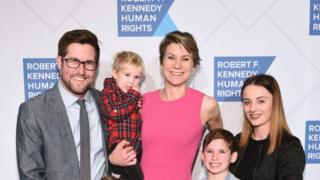 Two people – unnamed – were seen drifting several miles off shore 30 minutes later, according to a press release from a local fire department.
The wind in that part of the bay was around 41 miles per hour on Thursday night, with waves reaching three feet high, the Coast Guard said.
Mr McKean did not disclose whether or not the canoe had been found, but the Maryland Department of Natural Resources told US media that an overturned canoe matching the description of the McKean's boat had been found on Thursday evening.
The family, an American political dynasty, has been beset by tragedy.
The assassination of President John F Kennedy was followed just five years later by the murder of his brother – and Mrs McKean's grandfather – Robert F Kennedy.
In August, 30 – year-old Saoirse Kennedy Hill – granddaughter to Robert – was found dead at the famed family compound in Hyannis Port, Massachusetts.