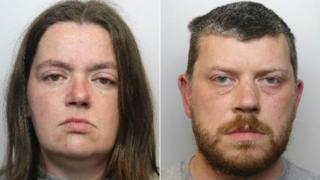 A mother has admitted the murder of her two teenage sons and hatching a plot to kill four more of her children.
Sarah Barrass, 35, killed Tristan and Blake Barrass, aged 13 and 14, at a house in Shiregreen, Sheffield, on (May.
Family member Brandon Machin, 39, also pleaded guilty to their murder.
At Sheffield Crown Court, both admitted a further charge of conspiracy to murder six children, including Tristan and Blake.
Judge Jeremy Richardson QC warned both defendants they could be sentenced to spend the rest of their lives behind bars.
"No words of mine can ever fully reflect the enormity of what you have both done, "he said.
" The crimes you have co mmitted quite frankly speak for themselves. "
He told both he had" little doubt "they would be sentenced to" several terms of
"This may well be a case … where a whole life order is imposed," he added.
Barrass, of Gregg House Road, Sheffield, also pleaded guilty to five counts of attempted
The charges relate to both of the murdered boys and two of their siblings.
Her four surviving children cannot be named for legal reasons.
No details were given in court about how the children died or what happened in the house in the days before the deaths on (May.
) The judge said the full case would be heard at sentencing on 12 November.
The charges of conspiracy to murder date from 14 May to (May.
The attempted murder of Tristan, Blake and two other children happened on 23 May. The pair also attempted to murder one of the children again on 24 May.
A whole-life order means a prisoner can never be considered for parole.