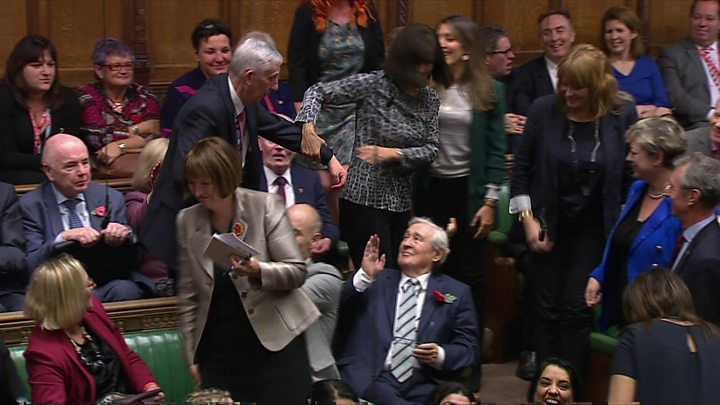 Labor MP and deputy Speaker Sir Lindsay Hoyle has been elected by MPs as the new Commons Speaker, after John Bercow stepped down.
After winning the final round of voting against Chris Bryant , Sir Lindsay was dragged to the chair by MPs, where he pledged to be a "neutral" Speaker.
He also paid tribute to his daughter, Natalie, who died in 2017, saying she would "always be missed".
The Speaker keeps order in Commons debates and calls MPs to speak.
Speakers must be politically impartial, which means Sir Lindsay will be required to resign from the Labor Party in order to carry out his role.
Mr Bercow stood down last week after an eventful and frequently controversial decade in the Speaker's chair. His resignation as MP for Buckingham was officially confirmed on Monday.
Seven candidates were originally in the running to succeed Mr Bercow, including former minister and deputy Labor leader Harriet Harman and former Labor minister Meg Hillier.
In the fourth and final round of voting, Sir Lindsay – who has been Mr Bercow's senior deputy for years – received 325 votes to Labor MP Chris Bryant's 213.
Sir Lindsay, who is the MP for his home constituency of Chorley, in Lancashire, told MPs that "this House will change, but it will change for the better "and he said he would be a" transparent "Speaker.
He also thanked his staff and family and paid tribute to his daughter , saying: "There is one person who is not here; my daughter Natalie. I wish she could have been here. She was everything to all of us."
Sir Lindsay's 28 – year-old daughter Natalie Lewis-Hoyle was found dead at her home i n Essex in December 2017.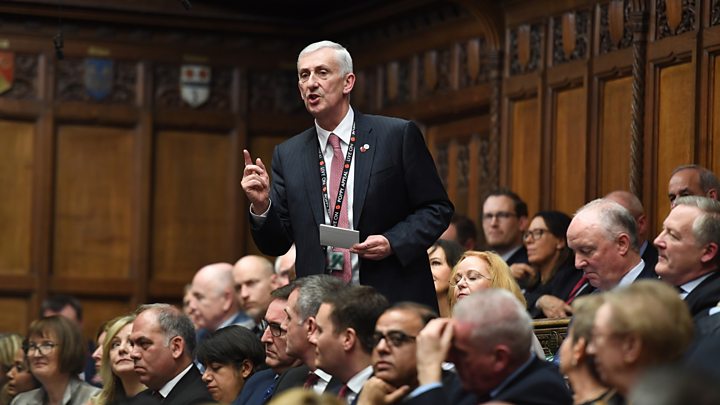 Paying tribute to the new Speaker, Prime Minister Boris Johnson said he was sure Sir Lindsay would "stick up" for backbenchers and show his "signature kindness and reasonableness" in the chair.
"Mr Speaker, in congratulating you on your election I observe that you have prevailed over an extremely strong field and that every other candidate earlier on spoke forcibly and well, "Mr Johnson said.
" And Mr Speaker, over the years I have observed that you have many good qualities, and I'm sure you will stick up for backbenchers in the way that you have proposed, and I'm sure that you will adhere to a strict Newtonian concept of time in PMQs. "
Labor leader Jeremy Corbyn told Sir Lindsay he would need eyes in the back of his head in his new role.
He said Sir Lindsay had taken the welfare of Commons staff and MPs "very, very seriously" and would continue to do so.
Liberal Democrat leader Jo Swinson said Sir Lindsay had "always taken great care" of MPs , and welcomed his pledge to take the welfare of Commons staff seriously.
She also said she hoped he would continue the modernization of Parliament.
DUP Westminster leader Nigel Dodds also congratulated Sir Lindsay, saying the Commons was "looking for a breath of fresh air".
What is the Speaker's role?
The role of the Speaker has come under increasing scrutiny over the past few years – and Mr Bercow has been both praised for boosting the influence of backbench MPs and criticized for stretching parliamentary rules.
Some have also accused him of not being impartial when it comes to Brexit.
The Speaker is responsible for choosing which amendments can be voted on –a power that has proved particularly significant in the Brexit process.
He is also in charge of upholding parliamentary rules, and Mr Bercow twice angered some MPs by refusing to allow the government to hold another vote on an already rejected Brexit deal.
The Speaker can also permit MPs to ask urgent questions whereby government ministers are summoned to the House of Commons over a time-sensitive or important matter.
During his years in the role, Mr Bercow dramatically increased the number of urgent questions asked.