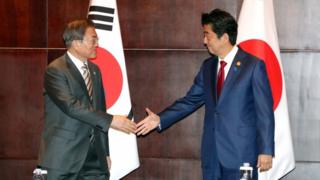 The leaders of South Korea and Japan have met in an attempt to improve ties after a difficult period in their countries' bilateral relationship.
President Moon Jae-in and PM Shinzo Abe held talks as part of a group summit with Chinese Premier Li Keqiang in the Chinese city of Chengdu.
Disputes over trade and World War Two compensation have damaged relations in recent months.
This was the first formal meeting between the two for more than a year.
Mr Moon and Mr Abe met for minutes, longer than the planned
"Japan and South Korea are historically and culturally the closest neighbors, and very big, important partners on people-to-people exchanges," Mr Moon said.
He said he hoped differences could be sorted thro ugh dialogue, as the nations had a relationship that could not be set apart "even when there's some discomfort for a while".
) But Mr Abe struck a tougher tone, saying it was Seoul's responsibility to come up with measures to resolve bilateral disputes.
two leaders also discussed North Korea, amid concerns that the North is planning a "Christmas gift" – which analysts believe could be a missile test – if the US does not make concessions in nuclear talks.
A satellite image has emerged in recent days of a new structure being built at a site where North Korea makes military equipment used to launch long-range missiles.