TNN | Updated: Oct 21, 2019, 2: 01 IST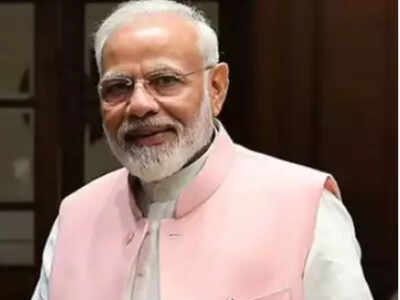 Highlights
Prime Minister Narendra Modi on Sunday cautioned against the demonization of technology
He said that effort should be to harness its potential to transform people's lives
The PM was speaking at the launch of 'Bridgital Nation', written by Tata Sons chairman N Chandrasekaran and Roopa Purushothaman, chief economist and head of policy advocacy at the Tata Group
PM Narendra Modi (ANI photo)
NEW DELHI: Prime MinisterNarendra Modion Sunday cautioned against the demonization of technology, saying the effort should be to harness its potential to transform people's lives.
Disputing the dire narrative about threat of job losses because of the growing application of Artificial Intelligence, Modi said, "There has been a trend to demonize technology. In the context of India, it has been depicted as a threat to our demographic dividend.
"Technology unites , it does not divide. It acts as a bridge between aspiration and achievement, demand and delivery and between government and governance. It is a talent and force multiplier. The need is to build bridges between Artificial Intelligence and human intentions. "
The Prime Minister was speaking at the launch of 'Bridgital Nation', written by Tata Sons chairman N Chandrasekaran and Roopa Purushothaman, chief economist and head of policy advocacy at theTata Group. She was earlier part of theGoldman Sachsteam that coined the term 'BRIC' to describe the potential that Brazil,Russia, India and China held. Modi gave the first copy of the book to Ratan Tata, chairman emeritus of Tata Sons.
He praised the book and said it represented "positivity, creativity, and constructive mindset" that was crucial for the fast growing aspirational India. Modi also said the book, with its positive outlook, would promote optimism among people, including among "professional pessimists".
The PM also said that technology had helped foster a new system eco-system of startups which now stretched to Tier-2 and Tier-3 cities, and cited the example of India Post Payment Bank to emphasize that the challenges posed by technology could be converted into opportunities.
more from times of india news