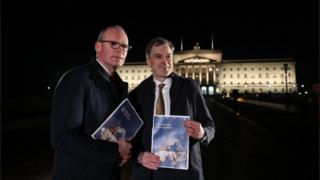 The British and Irish governments have
published the text of a draft deal aimed at restoring power sharing in Northern Ireland.
Secretary of State Julian Smith and Tánaiste (Irish Deputy Prime Minister) Simon Coveney made the announcement at a press conference at Stormont on Thursday evening.
The move came three years to the day since devolution collapsed in Northern Ireland.
If agreed, the deal, entitled New Decade, New Approach, will see the assembly reconvene on Friday.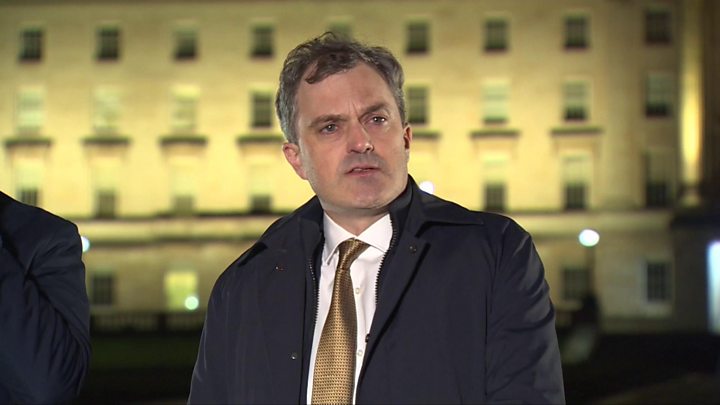 Mr Smith, who has written to the assembly speaker asking him to convene a sitting on Friday, said the deal will transforms public services and restore public confidence in devolved government.
He asked all parties to support it, saying: "Now is decision time, there is something in this deal for everyone. "
The Secretary of state said accepting the deal would Also bring about the parties' commitment to immediately ending ongoing industrial action by healthcare staff.
It includes pay parity, a new action plan on waiting times and delivering reforms on health and social care.
Health workers across Northern Ireland have been staging industrial action in protest against pay and staffing levels which they say are "unsafe".
Media playback is unsupported on your device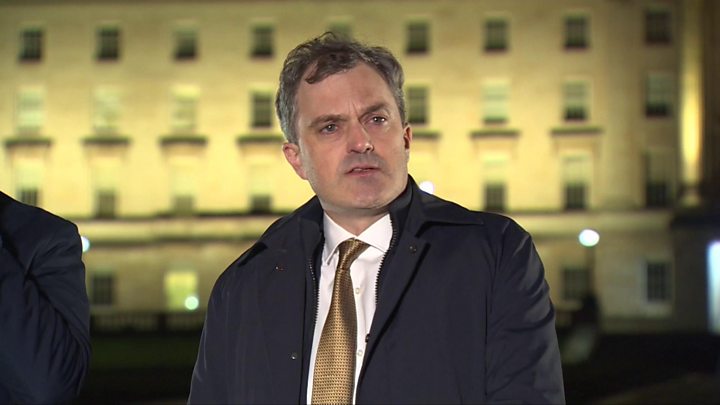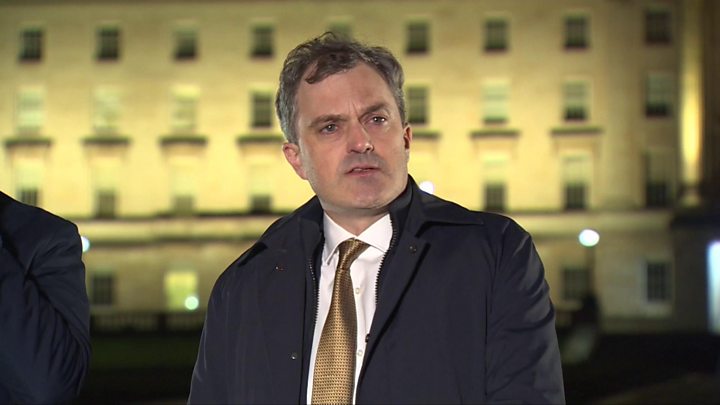 Media captionThe British and Irish governments have published the text of a draft deal aimed at restoring Stormont
*** Simon Coveney said the path that led to this point had taken longer than many people thought.
He said it was "based on the extensive discussions and collective work undertaken by the parties since May last year, following the awful murder of Lyra McKee ".
************** Ms McKee was murdered by the New IRA in April last year.
The journalist was shot in the head while observing riots in Londonderry.
"The British and Irish governments, as well as all the party leaders, were left in no doubt by the wave of applause and the very public demonstration in St Anne's Cathedral that we had been called out to get politics in Northern Ireland working again, "he said.
He added: "I want you all to hear the words of Lyra McKee herself, the words she wrote in a book and never lived to publish. She said 'Northern Ireland is a beautiful tragedy strangled by the chains of its past, it's a place full of darkness and mysteries, but it's also my home.' "
Mr Coveney urged politicians to "step up and fully represent their citizens", adding: "Forget win or lose … this is a deal full of compromises . "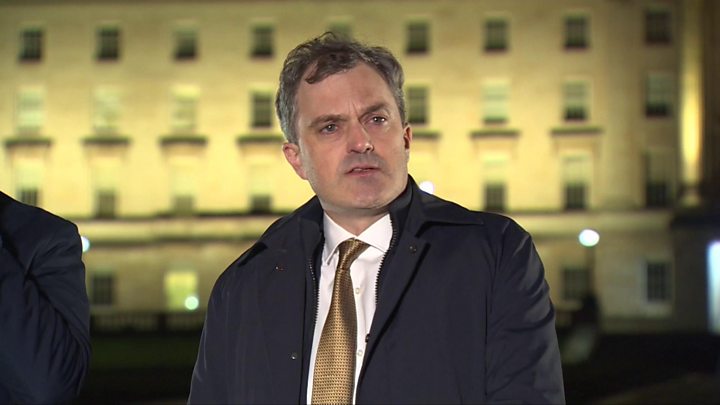 "There is no need, and no public patience, for more process and more discussions. It is time for political leadership and a collective commitment to making politics work for people, "he said.
Analysis by BBC News NI Economics Editor John CampbellIf the deal is done, the UK government is promising a large cash injection to tackle acute funding problems in Northern Ireland's hospitals and schools.
The financial annex in the draft deal does not mention any specific figures.
last year, the most senior official in the Department of Health said he would need somewhere between £ 728 m and £ 1bn to tackle waiting lists, which are the worst in the UK.
So health service managers will have an expectation that a sum of a least that size will be on the way.
What's in the draft deal?
The Deal would see legislation created for the appointment of both an Irish language commissioner and an Ulster Scots commissioner.
It also says there is to be "meaningful reform" of the petition of concern, which would be "reduced and returned to its intended purpose ".
The petition would "only be used in the most exceptional circumstances and as a last resort, having used every other mechanism ".How have the parties reacted?
In a statement released after the press conference, DUP leader Arlene Foster said: "On balance , we believe there is a basis upon which the Assembly and Executive can re-established in a fair and balanced way. "
The statement added: "This is not a perfect deal and there are elements within it which we recognize are the product of long negotiations and represent compromise outcomes. There will always need to be give and take. "Sinn Féin president Mary Lou McDonald TD said her party was "studying the text and will give it careful consideration."
"The Sinn Féin Ard Chomhairle will meet tomorrow to fully assess it," she added.
The Ulster Unionists said they would attend the sitting and consider the business put before them if the assembly is recalled on Friday .
Its leader, Steve Aiken, said: "We will consider this complex and far reaching document carefully and consult widely within within our party before making any further comments. "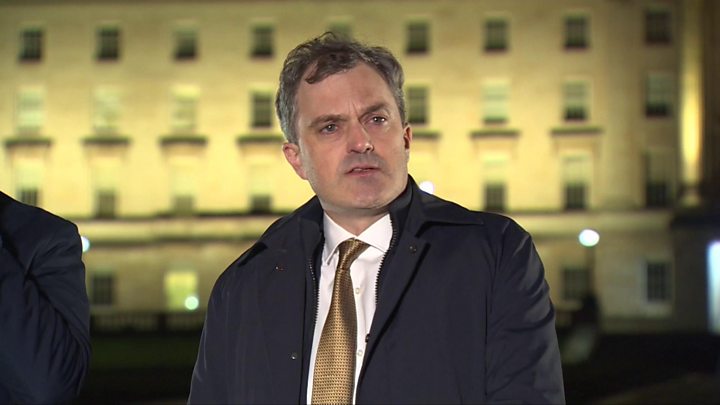 ********************
************************** (Read More) ************
**************************************