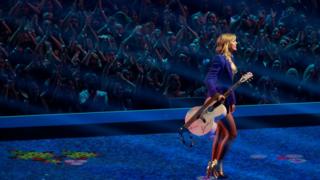 Taylor Swift has said her performance at the upcoming American Music Awards (AMAs) is in doubt because she is being barred from performing her own songs.
In a message to fans on social media, the singer said music managers Scooter Braun and Scott Borchetta would not let her perform songs from her past albums, which they own the rights to.
She said a Netflix documentary about her life had also been put in jeopardy.
The BBC has contacted Braun and Borchetta for comment.
Swift made the allegations in a statement posted to Twitter with the caption: "Don't know what else to do".
"Right now my performance at the AMAs, the Netflix documentary and any other recorded events I am planning to play until November 2020 are a question mark, "she wrote.
Why is there a feud?
In June, Swift revealed thatthe masters of her early music had been sold to Braun by her former record label, run by Borchetta, and alleged that she was not told about it.
At the time the singer accused Braun, who also manages Ariana Grande, Justin Bieber and Demi Lovato, of "incessant, manipulative bullying".
Swift also accused Braun of attempting to "dismantle "her" musical legacy ".While he did not respond to her comments, he was supported by Lovato and Bieber, who claimed Swift was just out" to get sympathy ".
The singer confirmed in August that she planned to re-record music from her first six albums so she could own the rights to the new versions.
What about the AMAs and Netflix documentary?
Swift is set to be named Artist of the Decade at the AMAs later this month and said she had been planning to perform a medley of her hits.
But in her statement on Thursday, she said the two men had blocked her from performing her old songs on television, claiming that this would be re-recording her music before she is allowed to next year.
They also blocked the use of her older music or performance footage in the upcoming Netflix film, she claimed.
Swift alleged that Borchetta told her team she would only be allowed to use the music if she agreed "not to re-record copycat versions "next year and stopped talking about the two men.
" The message being sent to me is very clear. a good little girl and shut up. Or you'll be punished, "she wrote.
She went on to ask her fans to help to pressure Braun and Borchetta into changing their minds and to appeal to the artists they manage for help. She also asked for help from the private equity firm The Carlyle Group, which she said financed the sale.
Fans received instantly, with the hashtags "IStandWithTaylor" and "FreeTaylor" trending on Twitter.
Strictly business?
After Braun bought most of the US pop star's life's work, thanks to his acquisition of her former record label Big Machine for $ M (£ 237 m) in June, Tim Ingham from Music Business Worldwidetold the BBCthat these kind of contract arrangements were fairly common in the days before music streaming.
"Unfortunately for Taylor Swift, she started recording at a time in the history of the industry when it was still heavily reliant on radio, where you needed a record company backing to get you on radio, especially country radio in Nashville, where Big Machine was a huge player, "said Ingham.
"And also, you needed to rely on physical distribution to get your CDs into stores. So she needed a record company to invest the amount of money that they had to invest to get her career off the ground. "
Mark Sutherland, editor of trade publication Music Week, agreed with Ingham that Braun's business decisions will most likely be driven by money, rather than any petty squabble.
"A lot of those songs are going to be a small goldmine in the streaming environment as they are enduring pop hits that are going to be streamed from now until the next 20, 30, 40 Years.
Star support
Stars including Halsey, Gigi Hadid and BBC Radio 1 DJ Greg James have leapt to the singer's defense.
Fellow pop singer Halsey said: "These people are protected because they inspire complicity with fear.
"Banking on the illusion that people will not stand up for her. That the world will say she is over-reacting, You're bar king up the wrong tree.
"It is her grace and patience in these moments that make her artist of the decade" she added.
Supermodel Hadid tweeted: "Scott and Scooter, you know what the right thing to do is."
BBC Radio 1 Breakfast hostGreg James wrote: "lol scooterbraun, scottborchetta. This is embarrassing.
"Probs should sort this out ASAP I reckon. Also while I've got you, the Bieber verse on Bad Guy is an abomination. "
Follow us onFacebook, or on Twitter@ BBCNewsEnts. If you have a story suggestion email[email protected].